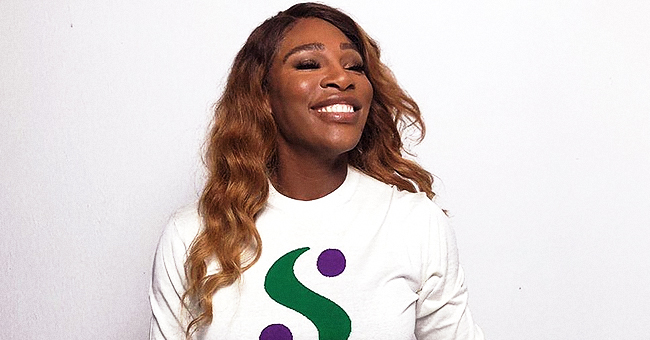 Instagram/serenawilliams
Serena Williams and Daughter Alexis Are Wimbledon-Ready in Matching 'S' Tops
Serena Williams and her mini-me, daughter Alexis Olympia, rocked matching outfits ahead of Williams' first match at Wimbledon on Tuesday.
Serena Williams and her entourage, including 22-month-old daughter Olympia, are in London for the Wimbledon tournament.
Before Serena's first game, she took to Instagram to share an adorable photo posing side by side with Olympia while they both rocked white sweatshirts with an emblazoned S in green and purple from Williams' clothing line.
The sweatshirt is a limited-edition piece released in honor of the tournament, and in a different post, Serena encouraged fans to wear it on the stands and show their support for her.
"Let the games begin!" Serena captioned her photo with Olympia.
FANS' COMMENTS
Fans of the seven-times-Wimbledon winner took over her comment section gushing about the photo and Olympia's cuteness.
"She is amazing her legs as strong as her mom at that tender age. A star is born," wrote one user.
Another agreed, "Omg. Olympia's legs are more toned than mine naturally... runs to the gym now! #cutenessoverload."
And another supporter gushed:
"Awww you guys are way adorable. It's definitely showtime mama. Let the games begin...the 7x Wimbledon title holder has officially entered the building. We here for it all, enjoy!"
ROAD TO THE EIGHTH TITLE
Serena won her first match on Tuesday against Giulia Gatto-Monticone.
With 23 Grand Slams titles under her sleeve, if she manages to snatch her 8th title on the Wimbledon tournament, Williams will equal Margaret Court's all-time mark of 24 Grand Slam titles, a record that she's been trying to achieve since her return to the court after giving birth to Olympia.
However, Serena has faced several physical restraints after her comeback and is still fighting to claim back her rightful place at the top of the list of the best tennis players.
Billie Jean King, the former World No. 1 professional tennis player, believes Williams could have a chance at getting her win if she focuses on her physical health.
"I think if she wants to win -- and that's up to her, she's got to be happy -- I would say to everybody: 'You guys, I'm going to focus for the next year-and-a-half, two years, I'm going to break these records, but I have to get single-minded, I have to get totally fit," King told CNN.
A SOURCE OF INSPIRATION
On the other hand, Serena's long-time coach Patrick Mouratoglou believes the attempt to get the 24th Grand Slam win is a source of motivation for Williams.
"It's difficult to reach it, the closer you get, the more difficult it gets, as always," he said. "But now, for example, she's not thinking about it. She knows she has this in her mind that she wants to achieve, but it's not stressful. It might become when she gets closer to the finish line."
Of course, Serena's daughter is also a great motivation for her, as she wants to set an example for the little girl to be strong and driven, even if things get hard along the way.
"I want her to know that being strong is never easy. Not in this world we are living in... Standing up for yourself is not going to be easy, but it's always eventually respected," Williams told Allure a few months ago.
Serena's next match will take place on Thursday 04 when she will be facing Slovenian Kaja Juvan.
Please fill in your e-mail so we can share with you our top stories!