Story behind Betty White and Bea Arthur's Infamous Feud
"The Golden Girls" stars Betty White and Bea Arthur had great chemistry on-screen, but in reality, they both had beef with one another. 
Watching Betty White and Bea Arthur act like the best of friends on "The Golden Girls" had people fooled, as their relationship in real life was actually filled with tension and hostility. While both women played important roles in the series, those close to Arthur admit she was not the most diplomatic person. 
Her son, Matthew Saks, once revealed that his mom "unknowingly carried" the attitude that it was fun to always have someone to be angry at. That ended up being White, her nemesis. She was someone she could roll her eyes at and just hate on. 
THE REASON FOR THEIR FEUD
Although there were a lot of theories on what started the war between the actresses, White revealed the reason during an interview with "TimesTalk" in 2011. The legendary actress who was also promoting her memoir at the time said that Arthur was a reserved person who was not fond of her.
White added that her co-star did not like her very much, and in the then-89-year-old's opinion, it was her positive attitude and openness that offended the woman who played "Dorothy Zborbak" the most.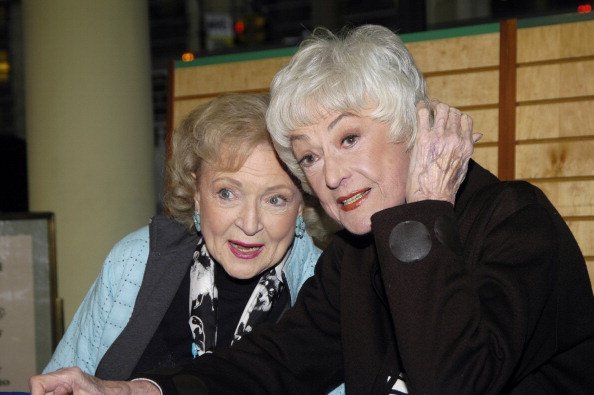 A CHANGE OF HEART
The "You Again" star added that her on-screen bestie was usually furious at her happy and cheerful attitude. By the time the fans were saying goodbye to the show in '92, there was nothing left to salvage of the two's relationship.
Interestingly, the actresses were close friends when the series started; they arrived together and would not eat lunch without each other, which is why their co-stars, Rue McClanahan and Estelle Getty, were surprised at the feud. 
A HINT OF JEALOUSY
Saks also revealed that his now-deceased mother considered herself a better actress than her co-star, and the latter winning an Emmy Award before Arthur added to her list of wrongs in his mother's eyes.
Right or wrong, the late actress never got to air her side of the story before her death from cancer in 2009. White is still alive and continues to get accolades for her long-standing career spanning over seven decades.
Happy Birthday to #DaytimeEmmys #LifetimeAchievementAward Recipient, @BettyMWhite #BettyWhite #GoldenGirls #StrongWomen pic.twitter.com/SBCNv4Alht

— The Emmys (@TheEmmys) January 17, 2019
WHITE'S ACHIEVEMENTS
Born on January 17, 1922, in Illinois, she moved to Los Angeles at 2 years old with the rest of her family. She first began working as an assistant at a local TV station before launching her own series called "Life with Elizabeth."
She became one of the first women producers in Hollywood, and throughout her career, she has garnered many achievements, including seven Emmys in all. In 2015, she was awarded the Daytime Emmy Lifetime Achievement Award. 
HER WORLD WAR II DAYS
During World War II, the veteran actress worked as a volunteer at the America Women's Voluntary Services. After the war, she started her career in television. 
White holds a Guinness World Record for the longest TV career as an entertainer in the female category. The award-winning actress' last husband, Allen Ludden, died in 1981, and their stars on the Hollywood Walk of Fame lie side-by-side.
Nowadays, White is the only "Golden Girl" alive, and she learned to put the past behind her and let the dead rest in peace. She remains healthy and safe at home amidst the pandemic, keeping herself busy with reading, watching TV shows, and doing crossword puzzles.