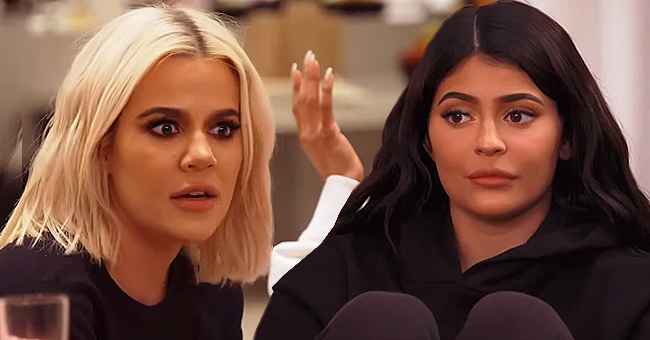 YouTube / Keeping Up With The Kardashians
Kylie Jenner Asks Family Not to 'Bully' Jordyn Woods, Says: 'We're Better Than This'

Kylie Jenner asks her family to stop bullying Jordyn Woods over the Tristan Thompson cheating scandal, saying that they're "better than this."
Kylie Jenner was put in an awfully uncomfortable position after finding out that her best friend, Jordyn Woods, was entangled in a cheating scandal with her sister's then-boyfriend and baby daddy, Tristan Thompson.
On "Keeping Up With The Kardashians," Jenner tried to Kim Kardashian about the whole ordeal, asking her and the rest of their family to cool down with what they post on social media.
Sister Calling Out Sister
After seeing her sisters, Kim and Khloe singing along with the Haqq sisters to Nivea's "Don't Mess With My Man," Kylie was disturbed and decided to call Kim out on it. On the phone, the two spoke:
"I just feel like we're bigger than this, we're better than this, and I feel like if you want to call her or yell at her or do whatever you want, or let's all talk in person. I just feel like the singing and the internet stuff; it's just not okay."
She then shared that the night before, she saw Jordyn, and Kylie began crying, sharing that her best friend definitely looked like she went through hell.
"We just don't need to bully somebody ... I don't think anyone deserves this. Let's express everything in person, however we feel."
A Sign of Regret
Learning a thing or two from her little sister, Kim deleted the videos of them singing, ultimately regretting it.
"I definitely don't want to be a part of bullying, that's not part of my MO. Kylie's right. I don't want to be a part of that game."
Before the whole cheating scandal blew up, Kylie revealed that Jordyn was actually the closest person to her on the planet, which meant them having to end their friendship was like going through a painful divorce.
An Awkward Position
While speaking to her mom, she said, "She knows she put me in an uncomfortable position, to say the least. Honestly, we're not like, really talking."
On one of their show's confessionals, Kylie also shared the weird position that she was in at the time, saying she cares about her family, but Jordyn is like family to her, too.
"I'm in a really weird position because I care so much about my family; I also care about Jordyn. Right now, I feel like it's a lot of ups and downs, sad, angry, the rollercoaster of emotions. I don't know what to say."
Friendship Over?
Woods had even been living with Kylie for a while, but she decided to move out on her own following the incident.
While Jenner was open about how important Jordyn was to her, she acknowledges that she did mess up.
"She knows that she can't be here. I didn't even tell her, she went to her mom's. I just feel like she's going through a personal journey that I'm obviously not supportive of. I don't know how we are going to mend our relationship if she doesn't figure it out with Khloe. I'm just like, 'What were you thinking?' She [messed] up."
Until now, Jordyn and Kylie have not made amends, as, at the end of the day, family is family and Kylie will always side with Khloe.
Please fill in your e-mail so we can share with you our top stories!