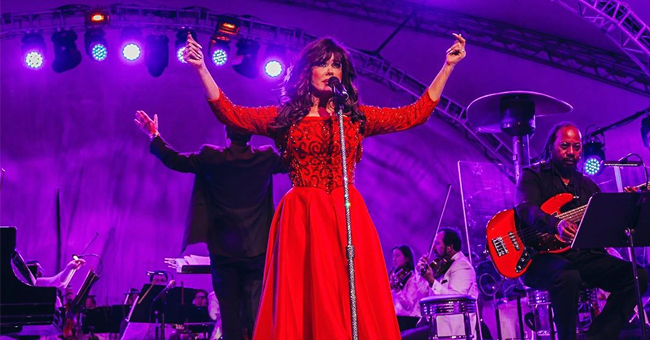 instagram.com/marieosmond
Marie Osmond Admits Son's Suicide 'Left a Hole in My Heart' in a Heartfelt New Message
Marie Osmond took to social media to disclose that her son's suicide had been emotionally tasking for her and that he is the one reason she sings opera.
Via Instagram, the stunning singer shared six pictures, three of which are stills from her recently held Utah concert performance.
While the photos were rather impressive, it is Osmond's lengthy caption that has captured the attention of her fans. In her caption, she answered the question many have asked her in the past – "why after all the years of country, pop and Broadway success I chose to sing Opera?"
"Well, it is because my son Michael loved it. Michael's passing left a hole in my heart that will never be filled until I see him again."
Michael Blosil, born July 6, 1998, met his untimely end early 2010. The cause of death was deemed a suicide, and that particular fact is what Osmond had mainly found challenging to come to terms with.
Although she has dealt with it and even named it one of the "inevitable tragedies of life," the 59-year-old explained that she still remembers him from time to time and fills up that vacancy in her heart through opera. Osmond wrote in her caption:
"When I sing his favorite genre and more specifically, the song 'Pie Jesu,' I can feel his presence, and that brings me such joy!"
Michael's untimely demise at the age of 18 is perhaps the most heart-rending tragedy Osmond has ever faced. His birthday is just three days away and makes another time for the award-winning star to relive his sad passing.
Thankfully, Osmond has discovered a way to handle with times like that as her message had started with her answering the question of what she does when life gets tough.
Her message serves as a source of inspiration for her fans as she outlined her troubles and termed them the inevitable occurrences that every person encounters at one point or the other in their lives.
The lengthy message will forever be a treasured one for Osmond's fans, and they expressed great appreciation. They took to the comments section to leave encouraging words, appreciate Osmond's tender words, and to relate their ways of dealing with tragic occurrences.
That is because they are aware of how sensitive the subject of Michael's demise is for Osmond. It is, however, not the first time Osmond will be displaying such affection for the late teenager, and she even once labeled it the "hardest thing" she has ever experienced during a 2010 interview with Oprah Winfrey.
May Michael Blosil's soul rest in peace.
Please fill in your e-mail so we can share with you our top stories!