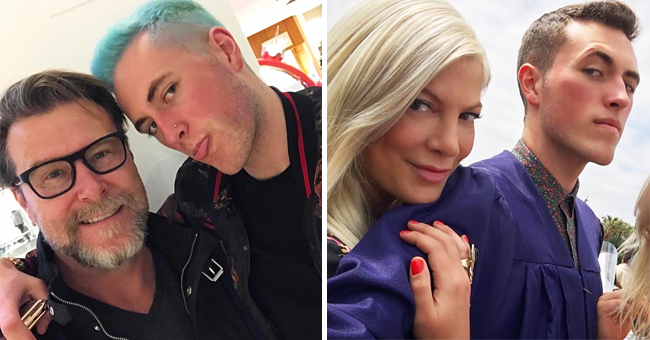 Tori Spelling's Husband Dean McDermott Shares How His Son Jack Came out as Gay
"Slasher" star, Dean McDermott, opens up about his disposition towards his eldest son being gay. He described his teenage son from his first marriage to Mary Jo Eustace as a "gorgeous kid."
While most parents might not feel too good about their kids being gay, Dean McDermott has proven that he isn't the regular father.
During the July 1 episode of his famous podcast, "Daddy Issues," Tori Spelling's husband gave details about how he felt about his teenage son who came out of the closet at 17.
Sitting alongside his co-hosts, Adam Hunter and Nicky Paris, the father-of-six entertained guest Perez Hilton and discussed with him about his confession that he would like his son to be heterosexual instead.
To tackle Perez's ideology, Dean first stated that his son from ex-wife Mary Jo Eustace, Jack, was gay. He then continued by telling Perez that he understood his preference for his son being straight. He said:
"And I'm behind you 100 percent. I just think, you know, you want the best for your kid. And you don't want to wish a life of persecution and hard times and bigotry, right? I think there's nothing wrong with that."
Dean went on to praise his son and revealed that Jack dreams of becoming a graphic designer and attends college in San Francisco.
"He's this beautiful, 6-foot-4, beautiful Adonis, he said."
Although Dean might be cool with his son's sexuality, he admitted that he doesn't know so much about his dating life.
He recounted that Jack visited him about four days ago and told him that he had broken up with his boyfriend.
The "Slasher" star was shocked about the news as he didn't even know that his son was dating someone in the first place.
OWING SCHOOL FEES
While Dean might seem like the perfect father on the outside, Jack's mother objects to this. As revealed by Radar Online, a source close to the family claimed that Dean owed Jack's school thousands of dollars. Not only that, Dean has faulted in his child support and alimony payments.
"Mary Jo is disgusted by Dean's behavior, the source said."
On January 25, 2017, Mary Jo filed an order to show cause for contempt in Los Angeles Superior Court alleging that her ex-husband refused to pay child support and alimony for months after a September 2016 agreement.
Dean is alleged to owe about $111,300, and Mary Jo demanded he pays $100,800 in monthly installments by July 2020.
Please fill in your e-mail so we can share with you our top stories!