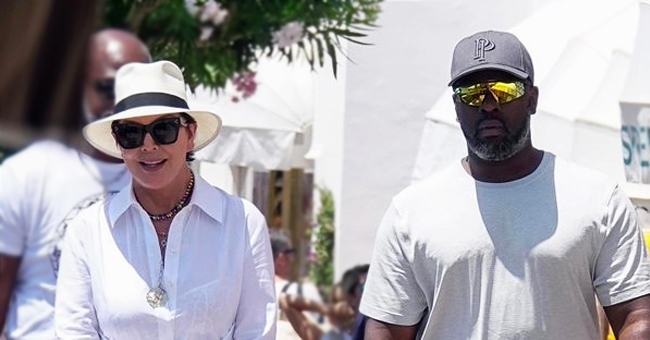 twitter.com/JustJared
Kris Jenner Spotted Strolling in Italy with Her Younger Boyfriend Corey Gamble

"Momager" Kris Jenner was spotted enjoying an afternoon stroll with her boyfriend of five years, Corey Gamble during a vacation in Capri.
Kris Jenner was seen having a romantic time with a boy toy while they were on vacation in Capri.
The 63-year-old proved age had nothing on her as she looked chic for the outing.
The "momager" rocked a white summer shirt dress by Stella McCartney.
The flattering dress featured layered design and a matching belt. The shirt dress retails for £765.
The business mogul paired the outfit with white sneakers from her son-in-law's brand, Yeezy, and unleashed her fashion prowess with a black and white hat.
Kris kept her face shielded from the sun with large sunglasses and accessorized with a beaded necklace.
Corey, who is 25 years younger than the famous mother-of-seven, looked like a perfect companion in a grey shirt matched with a pair of shorts and red sneakers.
The lovely couple strolled and checked out famous designer boutiques.
The summer break comes after drama broke out on Sunday's episode of KUWTK when Kim's husband texted Corey and threw shade at him.
Kanye questioned Corey why the Kardashians had never met his family since they began dating in 2014.
Obviously, Kris was pissed by this and wondered why Kanye was so rude to her boyfriend. She said:
"I just wish I knew why Kanye has to bring bad energy into the field at 6 o'clock in the morning. I would never disrespect somebody and say that."
However, it seemed Kris' daughter, Khloe agreed with her brother-in-law as she stated that she was supporting Kanye.
"He's my brother-in-law that I've known longer than Corey."
A TIMELINE OF KRIS AND COREY'S RELATIONSHIP
As reported by Cosmopolitan, Kris and Corey met in August 2015 at fashion designer, Riccardo Tisci's 40th birthday.
Two months later, he was seen at Kris' 58th birthday party.
By March 2015, Corey made his debut appearance on "Keeping up with the Kardashians," proving that their relationship was here to stay.
No matter what the world throws at this couple, it is evident that nothing can tear them apart.
Please fill in your e-mail so we can share with you our top stories!