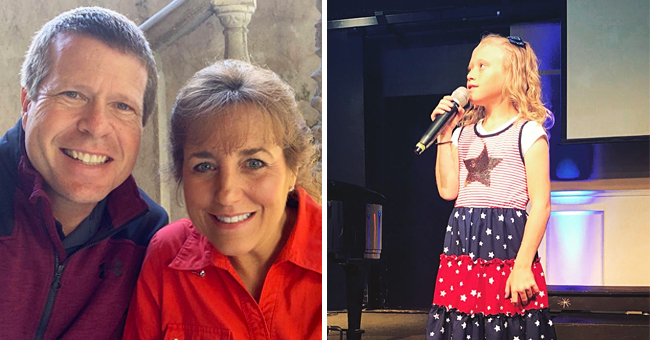 instagram.com/duggarfam
Jim Bob Duggar's Youngest Daughter Josie Steals the Show as She Sings the National Anthem on Stage

To kick off the week when every American celebrate their nation's Independence, the beautiful voice of Josie Duggar delighted churchgoers last Sunday.
Michele and Jim Bob Duggar can't be more proud of the youngest of their 19 children. The beautiful girl sang with all her heart "The Star Spangled Banner" accompanied by her sister Jana.
The patriarch of the Duggar family shared a short video of the girl's rendition in the church on his Instagram account, which received several comments of congratulations and has been played a thousand times.
In addition to showing his pride for his daughter's talent, he also showed his patriotism and love for his country by including a prayer for the United States and for everyone in the country to put their trust in God.
Josie besides being daughter number 19 of the Duggar family, is also their miracle daughter. The little girl was born prematurely after only 25 weeks of gestation and weighing just one pound. During her first years of life, she had to face multiple health challenges.
Now being a nine-year-old, Josie looks as good and healthy as any other girl her age. Thanks to her musical talent, her mother Michel has been promoting her musical career and last year she attended a studio to record the song "The Star Spangled Banner" written by Francis Scott Key.
In the Duggar family, musical talent is something very appreciated. They are known for being a family very committed to their religious beliefs, and little Josie's talent to sing is very useful for their purposes.
The Duggar family have many followers and if Josie puts all her effort in having a musical career, she will surely have many fans. It is a very little piece of her great talent that can be seen in the short video, but it seems that we will not have to wait too long to enjoy her lovely voice singing other songs.
Her parents will surely be very close to her, supporting her and seeing that everything is appropriate and coherent with their strong religious beliefs and how they have raised their other 18 children.
Please fill in your e-mail so we can share with you our top stories!