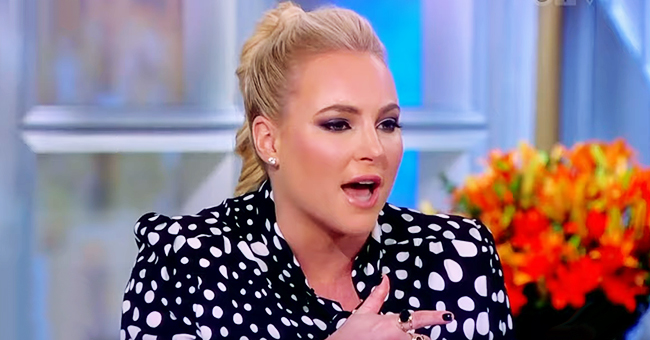 youtube.com/ET Canada
'The View' Fans Respond to the Alleged Exit of Meghan McCain

Meghan McCain has always had a very odd relationship with fans of "The View," and recently the rumors saying that she is leaving the show has led people to comment on the subject.
While some viewers like Meghan, others are not very fond of having her around, and some immediately took to social media to express their opinions.
Stand-up comedian Josh Gondelman was among them and used sarcasm to address the issue, claiming that it was "wild" that Meghan is considering leaving "The View" since the show let her play to her alleged strengths.
MOCKED FOR ALWAYS SAYING HER FATHER'S NAME
According to Gondelman, Meghan's "strengths" consist of saying her late father's name and "being wrong all the time." Curiously, the former is something that has already been pointed out several times by viewers.
As a response to a funny clip posted on Twitter, user Khlorental James Simpson said: "Did you know that her dad is John McCain?" This led another user to comment "What? Are you sure?"
Former Democratic candidate for U.S. Congress Dena Grayson also took a jab at McCain, who is reportedly tired of "feeling like a caged animal," stating that she should visit the children locked in cages at the border.
Meghan's "strengths" consist of saying her late father's name and "being wrong all the time"
RESPONDING TO THE RUMORS
The claim was allegedly made by a source via The Daily Beast, but both ABC and "The View" have considered the report to be false and that Meghan is not going anywhere.
Hillary Estey McLoughlin, a senior executive producer of the show, said:
"We don't want people to attack Meghan. We're happy to have Meghan there. I think she does want to be there. I think she wants to be on the show. She realizes it's a very good platform for her and we love having her there."
ALWAYS STIRRING THE POT
While on the show, Meghan has picked fights with every co-host, but the most heated ones involved Joy Behar, making headlines almost every week.
Luckily, Whoopi Goldberg has always been there to play the role of moderator, to calm them down and even order cameras to cut to commercial when the heat rises.
Please fill in your e-mail so we can share with you our top stories!