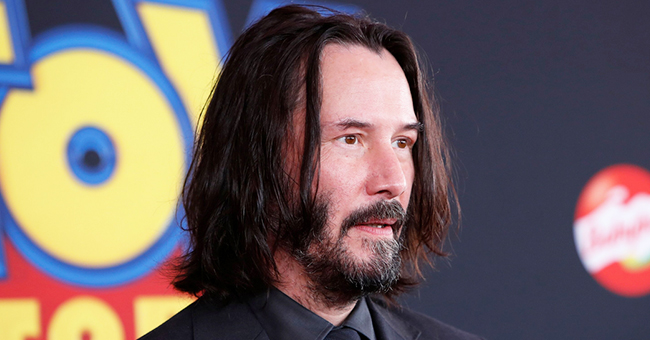 Source: Shutterstock.
Keanu Reeves and His Estranged Dad's 'Heavy' Relationship Story
Although Keanu Reeves has spent decades in the public eye, the notoriously private actor seldom opened up about painful experiences, especially the past "full of pain and woe" he had with his father.
The timeless actor had a largely nomadic childhood. During an interview with Rolling Stone, Keanu explained how their family moved around for the first seven years of his life.
Born to a British mother, Patricia, and Chinese-Hawaiian father, Samuel, in Beirut, Lebanon in the 1960s, they moved to Australia and then America.
While in the US, Keanu's father got arrested in 1994 with large quantities of cocaine and heroin, which landed him a ten-year jail sentence of which he only served two.
By that time Keanu had settled with his mother in Toronto, Canada, where he lived until his move to Hollywood to pursue acting. Patricia had taken up costume designing, and Keanu often went with her to recording studios where he met Emmylou Harris and Dolly Parton.
The last time Keanu spoke to his father, he was thirteen years old. Even though they have no ongoing relationship, Keanu holds no grudges despite having once described their history as "full of pain and woe."
"It's his life, man. I hope he's well. Whatever that means," he told Rolling Stone.
In 1988, Keanu met the actress Jennifer Syme, who worked as the filmmaker David Lynche's assistant, at a party thrown for his rock band, Dog Star.
The pair hit it off immediately, and Jennifer got pregnant almost a year later, but in January 2000 she gave birth to their stillborn daughter, Ava, at eight months.
Their relationship did not survive the loss of their child, but more tragedy followed when Jennifer lost control of her Jeep Cherokee on April 2, 2001.
While on her way to a party at Marilyn Manson's house, Jennifer sideswiped three parked cars on Cahuenga Boulevard in Los Angeles before the Jeep rolled several times, throwing her from the vehicle and killing her instantly, according to authorities.
Hardships hit much closer to home as well, as his sister Kim got diagnosed with leukemia in 1991. She went into remission in 1999, and throughout her illness, Keanu stayed by her side.
"When she was in the hospital he was there with her all the time, sitting at her bedside, holding her hand," a family friend told PEOPLE.
According to reports, the actor often privately donates towards cancer research and donated 70% of his "Matrix" earnings to hospitals that treat leukemia.
In May 2019, while promoting his movie "John Wick 3: Parabellum" in New York, Keanu Reeves revealed that he doesn't have anyone special in his life.
As he spoke to reporters during the press conference, Keanu shared that he is lonely but would "hopefully" be able to find that special someone.
Please fill in your e-mail so we can share with you our top stories!