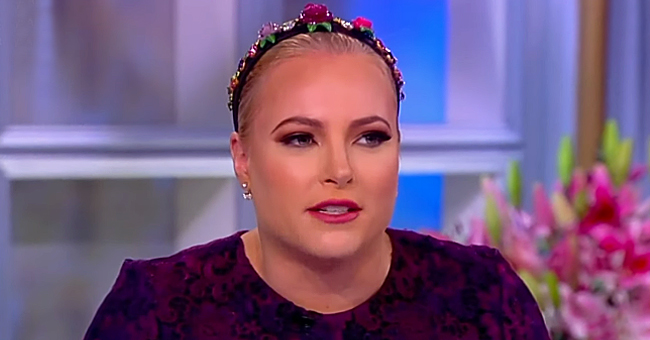 youtube.com/ET Canada
'The View' Producers Reportedly Answer Rumors about Meghan McCain Leaving the TV-Show
In recent time, reports have been in circulation that "The View" co-host, Meghan McCain wanted to quit the show. The show's producers reportedly released a statement giving answers to the rumors.
In Meghan McCain's two-year stint as a co-host on ABC's weekly daytime television talk show, "The View," she has been renowned for always standing by her opinion. She is also known for her spats with fellow co-host, Joy Behar.
Her on-screen disputes and rumored issues with the backstage staff led some fans to call her out on social media at some point.
It wasn't surprising then to find rumors circulating of her imminent departure from the show. The show's producers however attempted to shed more light on the rumors.
WHAT THE PRODUCERS SAID
In a statement, a spokeswoman for the show said that they were expecting the show's full panel back for the new season which begins in September.
Senior Executive Producer of the show, Hilary Estey also believes that Meghan would return to the show despite the ongoing rumors making the rounds.
She also said that the producers did not want people to attack her personality, as they are happy to have her around. Hilary also stated that part of the things draining Meghan was her passionate conservative opinions and how strongly she defended them.
THE FANS ARE DIVIDED
Since the rumors began making the rounds, fans of the show have been divided on whether Meghan should leave or return. Many fans have sympathized with her, while some others still want her to leave the show's panel.
Meghan has not yet responded to the rumors, so fans may have to wait until the new season of the show, which begins airing on September, to find out.
THE RUMOR
A "Daily Beast" report had claimed that Meghan McCain was strongly considering quitting "The View" and not returning for its 23rd season.
This follows a two-year testing run in which she got into strings of spats with Joy Behar, and often exchanged words with her on the show. There were also reports of her being abusive and rude backstage.
The report claimed that Meghan had grown frustrated, emotionally drained, angry, isolated, and also felt like a caged animal, due to the negative publicity she received.
A close friend of hers also said it had reached a point where Meghan felt that the negativity wasn't worth the emotional toll she went through every week.
Please fill in your e-mail so we can share with you our top stories!