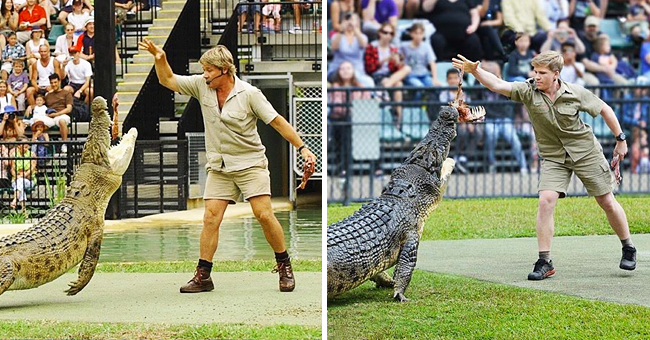 instagram.com/robertirwinphotography
Steve Irwin's Son Robert Recreates Iconic Photo of Late Dad by Bravely Feeding the Same Crocodile

Robert Irwin, son of the late Steve Irwin, follows in his father's footsteps, helping the world fall in love with nature.
Steve Irwin, better known as "The Crocodile Hunter", passed away 15 years ago, however, his legacy is not over, since his 15-year-old son Robert is following in his footsteps very closely.
From a young age, Robert was fascinated with the natural world. Now, together with his family, he travels around the planet and portrays the beauty of the animal kingdom. This talented 15-year-old shares his wildlife photos through his social media and people love it.
The similarity between Robert and his father Steve was captured in the latest publication of the 15-year-old on his Instagram profile, where he honored the memory of his father. Robert has compiled a collection of photographs where he recreates the most famous adventures that his father lived.
The teenager shared an image divided into two, which at the top shows the late Steve Robert Irwin feeding the crocodile Murray in a zoo in Australia, and in the bottom, Robert appears in a very similar scene with the same animal.
Robert works at the zoo in Australia and took the opportunity to recreate the feat of being face to face with Murray, his father's favorite crocodile and give him a few sandwiches.
"Dad and me feeding Murray ... same place, same crocodile ... Two photos, 15 years apart," Robert wrote next to the image.
The young man, who has more than a million followers on Instagram, received hundreds of comments in his publication, where he was congratulated for following in his father's footsteps.
"I could not imagine how proud he would be, Robert," said Lisa Wilkinson a well-known Australian television presenter.
A few weeks ago, Robert published another emotional image on his Instagram account in honor of Father's Day. The photograph showed the two children of the Australian lying on top of their dad.
In September of 2006, while making a documentary, Steve, famous for the television series "Crocodile Hunter", died when he was 44 years old after being attacked by a stingray in northwestern Australia. Robert was only three years old when the fatal accident happened.
Today, Robert along with his older sister Bindi and his mother Terri, continue the legacy of Steve, taking care of more than 1,200 animals at the zoo in Australia. This work is shown through a television program called "Crickey! It's The Irwins".
Please fill in your e-mail so we can share with you our top stories!