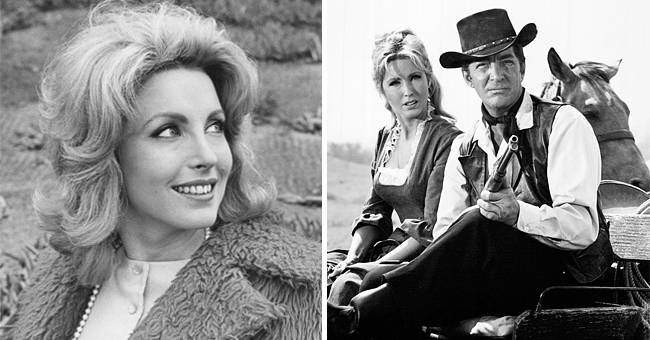 Laura Devon: Woman behind Augusta Canliss in 'Rawhide'
Laura Devon, born Mary Lou Briley was a captivating, generously endowed singer and actress who was scouted in 1961 by a 20th Century-Fox talent agent.
Though she was discovered by 20th Century-Fox, she was signed by Universal when she was found to be very photogenic.
Her big break came when she played the role of a supporting cast member on The Richard Boone Show in 1963 alongside June Harding, an equally budding actress.
A decade later, she retired permanently after her fourth marriage. While active she starred in only a handful of films, however, in that short period she was well sought after and was categorized as a blond, beautiful woman who always had her hair styled with an extra bit of flair.
In 1964, she played the role of "Augusta Canliss" in the famous western TV show, Rawhide, alongside the likes of Eric Fleming and Clint Eastwood. The show aired for eight seasons spanning seven and a half years making it one of the longest-running Western TV shows.
Laura was described as a beautiful actress who looked as gorgeous in photos as she did in reality. However, it was reported that she took offense when complimented about her photogenic looks.
She believed that her looks were not an asset which guaranteed her success in the film industry. She felt actresses who only thrived on their looks would not get very far.
Laura Devon married a total of 4 times in her life with her second marriage producing a child, Kevin, who was born in 1954.
She got married the third time to actor Brian Kelly who she met while she resided in Detroit. However, their romance was caught short when he went off to Hollywood.
Their relationship picked up again when Laura also made it to Hollywood in 1961, and a year later they were wedded. The marriage lasted from 1962 to 1966,
After the divorce, she married Maurice Jarre, a retired actor. Jarre took in Laura's then 13-year-old son, Devon and Jarre divorced in 1984. Her son, Kevin, kept Jarre's name and followed in his mother's footsteps as he is now popularly recognized as an actor and screenwriter.
Laura Devon died in 2007 at her Beverly Hills residence at the ripe age of 76. May her soul continue to rest in perfect peace.
Please fill in your e-mail so we can share with you our top stories!