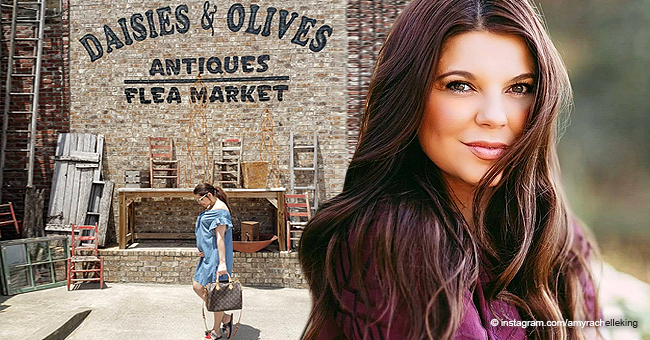 instagram/amyrachelleking
Amy Duggar Slams Fan for Calling Her Disrespectful after She Posted Baby Bump Photo

Amy Duggar is just one of the Duggar girls who are pregnant. She is 26 weeks pregnant with her first child and has been openly sharing pics of her pregnancy.
While cousin Amy is super excited about having her first child, her family is, unfortunately, dealing with a few losses that occurred over the last months. Most recently, Joy-Anna and Austin Forsyth miscarried their baby girl.
Joy was just six weeks behind her cousin in her pregnancy. She learned that the baby had passed away in-utero when she went for her 20-week check up.
"We only had her for 20 weeks, Life is fragile and precious," Joy-Anna wrote on Instagram. "So thankful the Lord gave her to us for that short time! She will be in our hearts forever!"
The entire Duggar clan took a moment to share a message for the devastated parents on social media. However, unlike the rest of the family, Amy Duggar's Instagram page remained dedicated to her ongoing pregnancy.
Amy posted a photo of herself on her Instagram account showing off her growing belly. In the pic, she was walking around at a flea market in Arkansas while holding her belly.
Fans felt the expectant mom should have waited a few more days.
The photo sparked immediate backlash towards the Duggar cousin. One fan felt the post was disrespectful especially since it was so soon after Joy's miscarriage.
Fans felt the expectant mom should have waited a few more days before posting pictures of her pregnancy out of respect for her cousin. Other fans, however, took to her defense.
"Smdh just for a few days out of respect cant you knock off the baby posts?" questioned one Instagram user.
One fan commented, "KEEP UP WITH THE BABY POSTS! First time moms DESERVE all the baby posts they want! You growing a human, BE PROUD! Can't wait to see this precious nursery!"
One supportive fan pointed out that Amy's happiness about her own pregnancy should not disappear. Amy herself also fired back at the comments.
She insisted she will not apologize for celebrating the events that are unfolding in her life. Amy went on to say in a second comment:
"Also, after what my family has been through how dare you say that to me. This baby is bringing me so much happiness, do you even know how many tears I have cried lately?"
The incident she was talking about was the passing of her Grandmother a few weeks ago. Grandma Duggar passed away in a tragic drowning accident.
She is heartbroken for Joy-Anna and Lauren.
Amy was extremely close to the matriarch. She previously revealed she would talk to her grandmother on the phone or in person at least a few times a day.
She was devastated by the loss. Amy is also extremely close to her cousins and revealed that she is heartbroken for Joy and Lauren. Lauren had miscarried her baby last October but is currently expecting her second child.
Jessa Seewald also came to her cousin's defense. She took to the comments section to say:
"You're a beautiful Mama. We all can't wait to meet this little guy!"
Jessa delivered her baby girl a month ago. She told Amy that she is a beautiful mother. She also went on to say that she is eagerly waiting to meet the little boy Amy will give birth to.
Kendra Caldwell, Jinger Duggar, Jill Duggar, Abie Grace Burnett, and Anna Keller are all also expecting children.
Please fill in your e-mail so we can share with you our top stories!