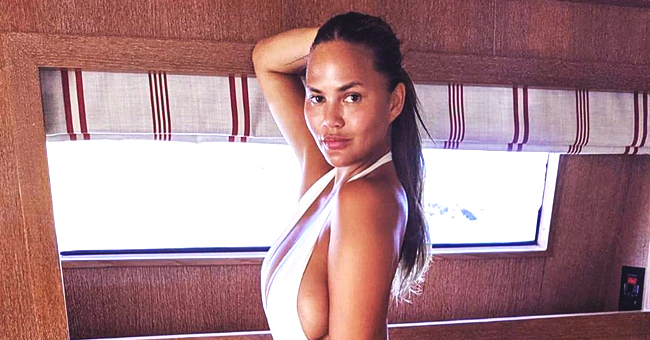 Chrissy Teigen Reveals Toned Body in Swimsuit Photos Taken on a Yacht in Italy

Model and author, Chrissy Teigen, is having the time of her life as she vacations with family and friends in Italy. To show her admirers how well her fun-time is going, she decides to share some sultry images which have left fans going wild!
Although she's a mother of two, Chrissy has always made it quite clear to her lovers all over the world that she isn't hitting the breaks on being 'perfectly toned' any time soon.
The American model who now co-hosts famous TV show Lip Sync Battle is currently on vacation with her husband of 6 years, John Legend, her kids: Miles and Luna, and a couple of friends.
Chrissy carried her fans along pretty well on her vacation through her Instagram page, and as revealed by her, the trip is about to come to an end. Apparently, it's the last day, and she decided to up the game, sharing images that have gotten the internet buzzing.
In one of the pictures, Chrissy was captured in an alluring pose, lying down on a yacht. She was rocking bikini briefs and was topless, thus putting a lot of skin on display. The image which only covered her back showed the 33-year-old holding a bottle of rosé. It was followed up with a funny cation and after which she tagged her husband and lvewines:
"Send me my check,"
Chrissy also shared another sultry image, and this time she had on a low-cut Swimsuit. It was apparent the picture was taken in the indoors of the yacht, and it featured the model standing on her toes. Here, she captioned it:
"feels off-brand but going for it."
Undoubtedly, the fun has not been restricted to the model and her family alone, but also fans who have been thrilled going through her media page. It's expected that the trip has come to an end, but surely, that is a look her fans would love to see often.
Please fill in your e-mail so we can share with you our top stories!