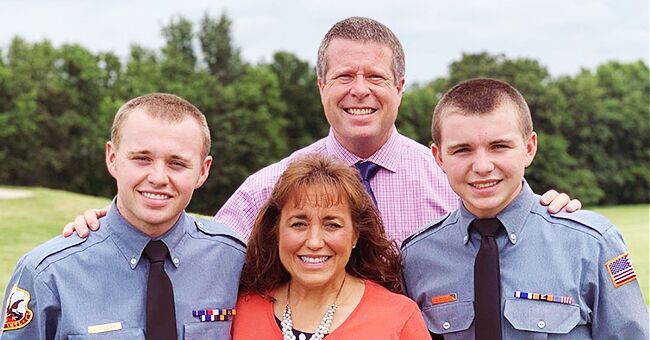 instagram.com/duggarfam
Jim Bob and Michelle Duggar Praise Their 18-Year-Old Son James' Desire to 'Honor God'
The Duggar family penned a birthday greeting to the 13th Duggar child, James, whom they referred to as the "go-to man" for fixing anything, and posted it on their Instagram account.
James Duggar just turned 18, and his family took to Instagram to pay tribute and greet the 13th Duggar sibling on his special day. The post included two photos of James with his parents and some siblings, along with a sweet caption that read:
"We are so thankful for your tender heart, and your desire to honor God with your life! You are the go-to man when it comes to fixing pretty much anything. We are always amazed at the creativity you show as you accomplish whatever task is set before you."
James was born on July 7, 2001, over a year after his older brother Jason was born. The following year, his younger brother, Justin who comes next to him, was born. In total, the Duggar siblings are 19, with their parents Bob and Michelle leading the pack.
In 2008, the family's TLC reality show, "19 Kids and Counting," premiered and kicked off the fame of the Duggars. Apart from the obvious reason for their fame -- their huge family, the Duggars are also known for their unorthodox way of life.
Being Independent Baptist Christians, they veer away from movies, shows, and literature that is not focused on God. Additionally, the kids learn at home instead of in school, and the girls don't wear pants.
The family also doesn't believe in dating, but instead in courtship to prepare for marriage. Before the day they say their "I do's," they are not allowed to hug or kiss, and definitely not be intimate in bed.
Recently one of the Duggar kids, Joy-Anna, made the headlines for having a miscarriage half-way through her pregnancy. After they announced the heartbreaking news on their Instagram, the Duggar family consoled Joy-Anna and her husband in their time of despair.
"We were so sad to hear that Joy and Austin's baby girl passed away mid-way through their pregnancy. The pain of losing a child is unimaginable. Yet, for one whose hope is in God, there is a peace that surpasses our infinite understanding," wrote her parents.
Fans of the reality star and the family also shared in the pain the couple felt, which they expressed through comments on the Duggar's Instagram account. The news came less than a month after Joy-Anna's grandmother, Mary Duggar, passed away.
Please fill in your e-mail so we can share with you our top stories!