Family and Fans Support Joy-Anna Duggar after Her Miscarriage at 5 Months
Joy-Anna Duggar's parents and fans penned heartfelt messages showing support due to the miscarriage she suffered which she and her husband, Austin Forsyth, shared through their Instagram account. 
Less than a month after Mary Duggar's passing, Joy-Anna Duggar's unborn baby of five months has joined her grandmother in heaven. Joy-Anna and her husband Austin announced the heartbreaking news on their Instagram account and has received endless support since.
The Duggar family's official Instagram shared the pain of losing yet another family member and sympathized with Joy-Anna and Austin at their time of despair. Their parents penned a heartfelt letter following the announcement:
"We were so sad to hear that Joy and Austin's baby girl passed away mid-way through their pregnancy. The pain of losing a child is unimaginable. Yet, for one whose hope is in God, there is a peace that surpasses our infinite understanding."
Fans of the family also consoled and sympathized with the couple, with many sharing their own experiences having miscarriages and how they coped through the pain. One shared:
"I lost 7 babies and it devastated my life until I had a revelation and a confirmation that when I enter into heaven I will be able to raise my children from infancy and never have to lose that part of what the Father desired for me."

"It's such a tough time but God has something planned for everyone. My family is sending prayers to your family. never loose the hope," another fan wrote.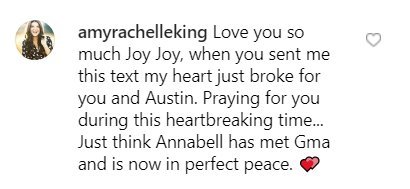 Joy-Anna and Austin's post included a black and white photo of her in the hospital bed while her husband sat before her and leaned towards her. Both had their eyes closed like they were deeply mourning a loss.
The post came with an emotional story of what had happened when the doctor broke the news: "I don't hear a heartbeat or see any movement," on the week the baby's gender was revealed -- it was a girl.
The news came after the month grandma Mary Duggar passed away after accidentally drowning at her home in Springdale, Arkansas. The family announced her death through their official Facebook page, where they shared about the late Duggar's life.
Mary is survived by 21 grandchildren and 13 great-grandchildren, and many more to come. However, one of them already decided to keep her company in heaven.