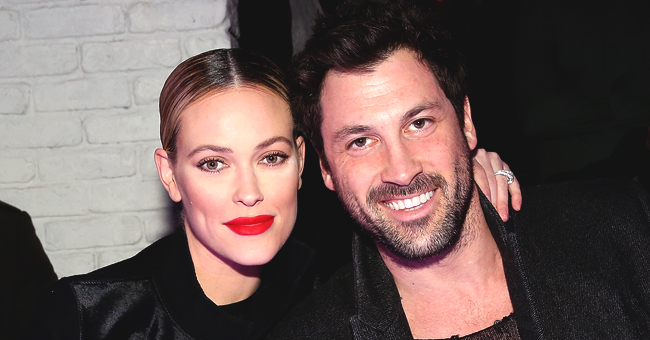 Getty images
Maksim Chmerkovskiy Swears to Love Wife Peta Murgatroyd for 'as Long as He Lives' on Their 2nd Wedding Anniversary
Maksim Chmerkovskiy and his wife Peta Murgatroyd celebrated their second year of marriage with the sweetest words on Instagram and a candlelit dinner in Los Angeles.
The professional dancers both took to Instagram to share words expressing their enduring love for each other two years after exchanging vows with each other.
Chmerkovskiy, 39, posted a gorgeous photo of the bride and groom on the day they vowed to spend the rest of their lives with each other. The white altar stood with four clear glass columns in a green garden.
"Today will always be on of the best days of my life! I couldn't wait to marry you. I couldn't wait to spend the rest of my life being your partner, your friend and your family."
He continued by saying that he was more in love with his wife than ever, "obsessed," and she held his hand, heart and soul. "Happy anniversary my love," he concluded.
As for Murgatroyd, 32, she posted several photos from the wedding events alongside a lengthy caption describing her love as "gut-wrenching, hard to describe, electric, painful, [and] soulmate style."
"You will always be my 'one,' she insisted, then added, "The one that I couldn't be apart from, the one whom I loved from the beginning (and I didn't know why)."
"I couldn't even explain it logically to my head or anyone lol....the one who has always been my protector, the one who knows me better than anyone.... @maksimc you are the love of my life, and I cherish every year we have on this earth together. Happy 2nd Anniversary!"
According to People, the couple took to the streets of Los Angeles on their big day and had a candlelit dinner at a French restaurant called "The Little Door." It was reportedly where they had their first date years ago.
The couple met while working on the popular talent show, "Dancing With the Stars," ending up at the restaurant when Chmerkovskiy offered to talk about her concerns while on the show.
They announced their engagement in December 2015. Just over a year later, Murgatroyd gave birth to their son Shai Aleksander on January 2017. Half a year later, they got married at Oheka Castle in Long Island, New York.
In 2018, Chmerkovskiy opted to leave the show to focus more on his family. The show itself is on a break, but Murgatroyd recently hinted at her return to the televised dance floor.
She spoke to US Weekly as she attended the grand reopening of Hollywood's Cleo restaurant on June 15 and revealed that she was working at getting an acting role.
Regarding a possible comeback on "Dancing With the Stars," Murgatroyd said, "maybe," but added, "I'm actually not contracted with them right now." Regardless of their absence from the small screen though, the couple continues to dance.
"We put together a little routine [just for us] … Dancing just makes us feel good," she explained. The lovely couple certainly look to be going strong two years in. A Happy Anniversary to them.
Please fill in your e-mail so we can share with you our top stories!