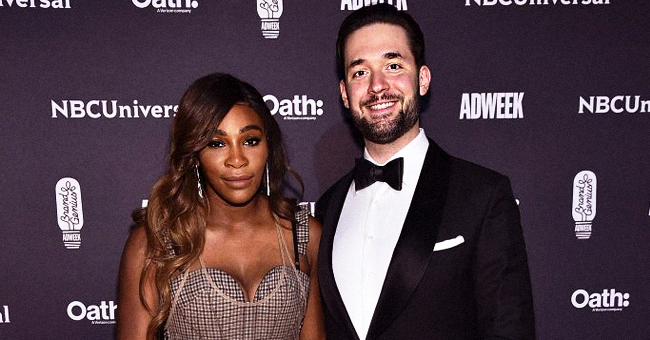 Getty Images
Serena Williams' Husband Is 'Getting Better' at Doing Daughter Olympia's Hair (Photos)
Serena Williams's husband showed he is an excellent hands-on dad in new photos where he showed off how well he fixed his daughter's hair.
Tech innovator and venture capitalist, Alexis Ohanian, and husband to tennis superstar, Serena Williams, showed that his skills go beyond building apps and crunching numbers.
Ohanian shared two photos on Twitter that showed when it came to his daughter, Olympia's hair, he is equally as talented and very hands-on. In the first photo, the tech innovator is seen bent over his little girl, with his hands in her hair as she looked into the screen of a tablet in front of her.
"I swear, I'm getting better at this," before adding,"Meanwhile, @olympiaohanian is over her like, Um, mama, a little help."
The photo was so adorable that his followers asked to see the finished work, and he obliged them with a second photo.
In it, Olympia wore a white dress similar to that of Williams' tennis outfit, with a shiny Nike emblem on the top-right side and her hair held in three ponytails with no strand out of place.
Elizabeth, one of Ohanian's followers, commended his effort writing,
"Omg, you did an awesome job. She looks adorable in her mini Wimbly dress. I see you and Olympia doing daddy-daughter tutorials soon."
The venture capitalist also had comments like "Perfect," "You have gotten good," and "Parenting goals." The father-of-one is on daddy duty while Williams is competing at Wimbledon and chasing her 24th Grand Slam title.
He once said in an interview that he supports her dreams and understands that sometimes her career has to come first. The 23 Grand Slam winner, on her part, credits her husband of almost two years with challenging her and pushing her into the light to shine.
However, as much as the tennis star wants to continue being the best, the mum-of-one whose Instagram bio reads, "Olympia's mum," loves to spend time bonding with her daughter.
To Williams, braiding her daughter's hair is one of the best ways they get to spend time together and bond, and in an Instagram post, she revealed that it goes beyond that to preserving a tradition that originated in Namibia and meant a lot to the Black community.
The Reddit co-founder, not one to be outdone, joined four private groups on natural hair on Facebook in May. He tweeted at the time that he hopes they accept him after viewing his profile picture.
Ohanian and Williams are the perfect examples that parents, no matter how busy they are, can still find time to do little things for their children.
Please fill in your e-mail so we can share with you our top stories!