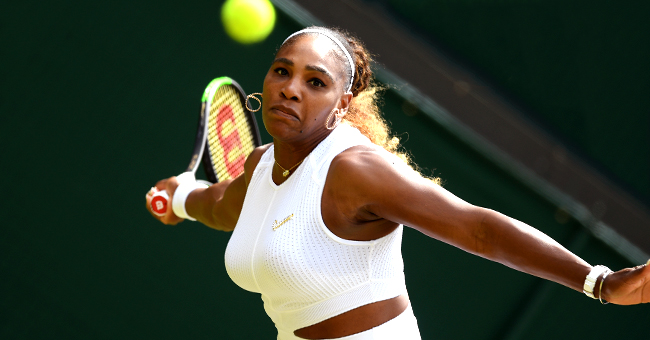 Getty Images
Serena Williams Hit with $10k Fine for Wimbledon Practice Court Damage
Serena Williams has been slapped with a $10,000 fine for damaging a Wimbledon Court while practicing for her upcoming matches after throwing her racket to the ground.
Before this year's Wimbledon began, Serena Williams made sure to get a hang of one of her favorite courts by doing test games. However, while practicing, she damaged one of the courts and was hit with a whopping $10,000 for the damages.
The Damage Incident
The 23-time Grand Slam champion allegedly threw her racket to the ground and caused damage to the court which she was practicing on over the weekend.
The fine was sanctioned by the All England Club, which they felt was ultimately a tiny number given the accumulated $367,000 she's won from winnings in this year's tournament.
Dominating Wimbledon
Serena Williams has been doing a great job so far into the tournament, as she's won her mixed doubles match with Andy Murray. Britain's pride, Andy Murray, and American legend Serena Williams easily won their match against unseeded opponents Andrea Mies and Alexa Guarachi on 6-4 6-1 sets.
Two of the top tennis players in the world will now face 14th seeds Fabrice Martin and Raquel Atawo in the second round, and people are excited to see what this dynamic duo has in store for their fans.
Serena is also set to play against fellow American Alison Riske in the quarterfinals on Tuesday.
While she has yet to address her fine publicly, people have protested on her behalf, saying it's quite unfair for her to be given such a high fine while the likes of Fabio Forgnini were asked to pay $3000 for saying "he wished a bomb should explode [at Wimbledon], and Nick Kyrgios who was slammed with $8000 for two separate violations under unsportsmanlike conduct.
A lot of them are saying it's the privilege for men again that is arising out of the fines that were given out to tennis players at Wimbledon. Serena was the only one to be given such a high sanction for one infraction, and people are just not having it.
Please fill in your e-mail so we can share with you our top stories!