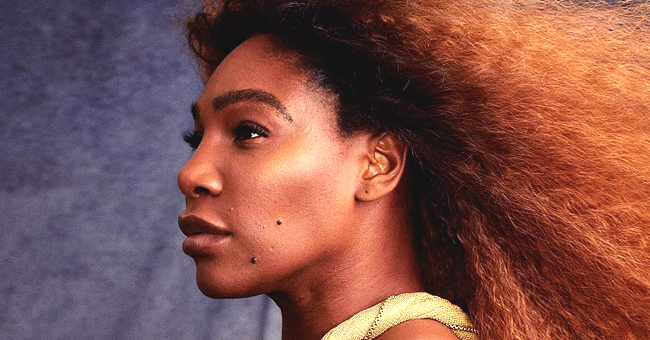 instagram.com/harpersbazaarus
Serena Williams Poses Unretouched in a Classy Sparkling Golden Dress for Harper's Bazaar
It has been revealed that world-famous tennis player Serena Williams is the face on the cover of the August issue of Harper Bazaar. She looked golden in a form-flattering glittery dress.
To mark the remarkable feat, Harper Bazaar took to Instagram to share photos and thus a glimpse of the upcoming magazine cover.
The picture featured Serena Williams in an eye-catching all-gold ensemble that included a shimmery golden dress and matching golden pieces of jewelry. The garment was indeed the perfect fit for the mother of one as it subtly hinted at her curvy physique.
The golden number had straps that are so tiny it looked like they might snap with even the littlest of movements. It was, however, just the right thing to complement the low neckline of the dress. Williams exuded grace and strength at the same time as she made a proud stance smiling and with her hands planted on her hips.
The look was brought to a perfect finish thanks to Serena's luxuriously full and wavy mane. She used just a few accessories; chunky gold earrings, a tiny necklace, and a silver ring were the only ones visible in the shot. Her face sported nude makeup and made the white teeth stand out as she gave a little smile.
The words: "Serena Unretouched & In Her Own Words," were boldly written across Williams' picture in all caps and the magazine cover was, of course, of a golden background.
Via the caption for the recent Instagram post, the prestigious magazine introduced their "August cover star," hinted at a first-person essay personally written by the award-winning sports star and credited the brains behind the incredible magazine cover.
"The tennis superstar goes unretouched and gets candid in a first-person essay about last year's controversial match at the US Open—and why she'll never regret using her voice to speak out against injustice. Link in bio. Photography by @alexilubomirski. Styling by @menamorado. Hair by @vernonfrancois. Makeup by @tyronmachhausen #SerenaWilliams wears @stellamccartney and @tiffanyandco."
The post is just a few hours old, but it has already amassed well over 15,000 likes. Fans also took to the comments section to commend the stunning cover.
It is not the first time Williams has graced the cover of Harper's Bazaar, but it is a rather incredible one as fans get more than just a first-hand account of the star's dealings.
As a part of the soon-to-be-released issue of Harper's Bazaar, Williams also shared a glimpse into her nighttime skincare routine. Even that has already become very popular and has over 8,000 views although it is just a few hours old!
Please fill in your e-mail so we can share with you our top stories!