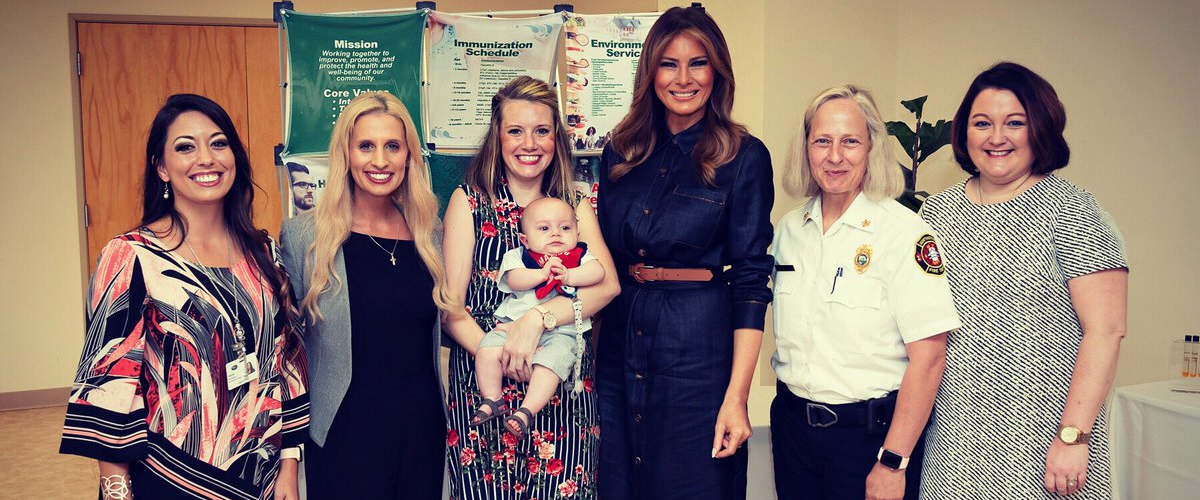 twitter.com/FLOTUS
Melania Trump Wears Stylish Denim to an Opioid Discussion in West Virginia
The First Lady of the United States has once again attracted a lot of attention thanks to her fabulous fashion style, this time rocking a denim dress.
On Monday, July 8, Melania Trump flew to Huntington, in West Virginia, to meet with several leaders from the federal state for a roundtable discussion regarding opioids.
Although the subject was as serious as it can possibly be, Melania wanted to look her very best while addressing the issues tackled by her Be Best campaign.
SERIOUS BUT STYLISH
The 49-year-old stepped out of the White House wearing a midi-length $698 denim dress and a small but very trendy and chic brown belt around her slim waist.
The First Lady completed the elegant look with a pair of Manolo Blahnik cap-toe pumps and a touch of makeup consisting of dark mascara and a hint of blush.
In West Virginia, Melania was spotted meeting with several entities, such as schools, health centers and even the police regarding the big opioid crisis that they try to fight on a daily basis.
Although the subject was as serious as it can possibly be, Melania wanted to look her very best
STANDING UP TO DRUGS
The battle against opioid addiction has been one of the main issues addressed by her initiative and she has previously promised to continue to raise awareness for the dangers of opioids.
As always, Melania has chosen to focus on the children, including unborn babies. During the 2019 Rx Drug Abuse & Heroin Summit in Atlanta, the First Lady also mentioned the young mothers affected by the addiction.
ALWAYS LOOKING FOR WAYS TO SUPPORT THOSE IN NEED
During her speech, she said:
"We are also committed to supporting more treatment facilities that have both mothers and babies recover, and replace the bond of addiction with the bond of love between a mother and her child."
The well-being of children and their mothers, as well as positivity, have always been Melania's goals, and the Be Best initiative has allowed her to become more involved in projects that seek to end the opioid crisis.
Please fill in your e-mail so we can share with you our top stories!