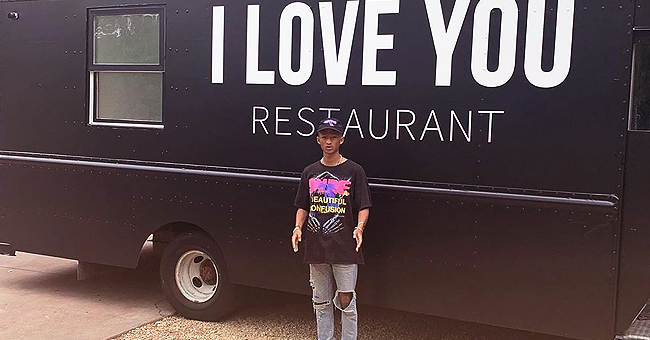 Instagram/c.syresmith
Will Smith's Son Jaden Opens Free Pop-Up Food Truck to Feed LA Homeless

Will Smith's son Jaden celebrated his 21st birthday by giving to others: feeding the homeless in Los Angeles.
Will and Jada Pinkett Smith's son Jaden has just turned 21, and to celebrate that occasion, he helped to feed some of Los Angeles' hungriest people.
The young man has launched a new and innovative project in the form of a food truck that will provide free meals to the homeless.
"The @ILoveYouRestaurant Is A Movement That Is All About Giving People What They Deserve, Healthy, Vegan Food For Free. Today We Launched Our First One Day Food Truck Pop-Up in Downtown LA." Jaden Smith
GIVING HEALTHY FOOD TO THE HOMELESS
Jaden opened what he has announced is only the first of many meals-on-wheels trucks called I Love You Restaurant.
The I Love You provides free vegan meals to the homeless in Los Angeles' Skid Row, and more of the Restaurants will soon be on the city's streets.
The I Love You Restaurant initiative is only one of the latest of Jaden's philanthropic projects.
GOING HUNGRY IN THE STREETS OF THE WORLD'S RICHEST NATION
Homelessness is an old problem, and for many of us, seeing a homeless person on a city street is so commonplace that the horror of that human being's situation no longer even registers.
"Homelessness was up by 12 percent over last year in the county and up 16 percent in the City of Los Angeles. That puts L.A. County's homeless population at 58,936 and the city's at 36,300," reported The New York Times.
It is well known that many of the homeless are people who are suffering from psychiatric disorders and cannot afford medical treatment - and among them are many veterans suffering from PTSD.
JADEN SMITH STEPS UP TO THE PLATE
For Jaden, standing by while others suffer is not an option. He and his siblings were raised by their parents with a strong sense of civic responsibility and encouraged to help those less fortunate than themselves.
PHILANTHROPY IS IN JADEN SMITH'S BLOOD
The I Love You Restaurant initiative is only one of the latest of Jaden's philanthropic projects.
The young man has also founded a company called JUST, dedicated to bringing cheap water filtration systems to the underprivileged around the world.
His parents are justly proud of him, and we join them in wishing Jaden Smith a very happy birthday.
WILL SMITH - PROUD FATHER OF THREE
Actor and mega-star WIll Smith is first and foremost a proud and dedicated dad to his three children.
The comedian who rose to stardom as "The Fresh Prince of Bel-Air" and has become one of the greatest movie stars of his generation.
Will shares his oldest son Trey, 26, with his ex-wife, Sheree Zampino, and his youngest two - Jaden, 21, and Willow, 18 - with Jada Pinkett Smith.
Will has made it a point of raising his children with their feet firmly on the ground and with an awareness of the difficulties so many struggle with.
It is to WIll that Jaden owes his philanthropic bend and his strong social conscience.
Please fill in your e-mail so we can share with you our top stories!