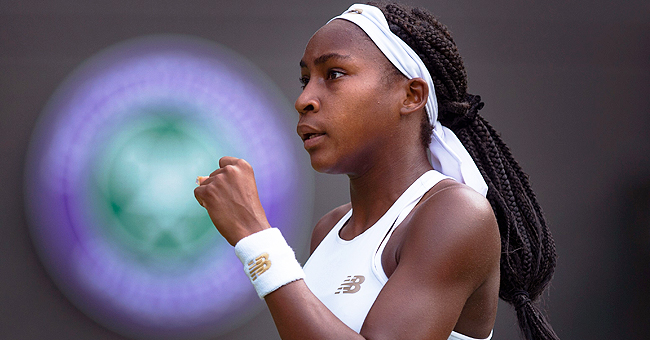 Getty Images
Coco Gauff's Magical Run at Wimbledon Ends after Losing in 4th Round

Coco Gauff was up to an impressive start at this year's Wimbledon, but her magical run was cut short after she lost her match on the 4th round of the tournament.
15-year-old Coco Gauff is one of the newest changemakers in the tennis world, with so many people asking: Who IS she? Entering such a prestigious international competition was not an easy feat for Coco, but she knew she could do it.
However, her run for the Wimbledon trophy was cut short when she lost to 7th seed player Simona Halep in straight sets in the fourth round of Wimbledon. Halep, who was the world's number one player in January, will now advance to the quarterfinals after a 6-3, 6-3 win. She has one major title, the 2018 French Open.
Rising Rankings
At 15-years-old, Coco Gauff has beaten the likes of Venus Williams, which gained her an instant following for beating one of the most famous tennis players in the world. She became the youngest player to reach Wimbledon through qualifying, entering the tournament ranked 313 in the world.
Now that she was able to show what she's capable of on an international level, she will most definitely be in the world's top 150 tennis players.
While she'll be headed home to Delray Beach, Florida, without a trophy, she is more than content.
"I'm excited to go home now and see my family. I saw a video and they were saying they were so proud of me, so that kind of makes me happy."
A Long Way to Go
Aside from beating Williams, Coco also had an epic comeback win against Polona Hercog, which gave her a chance to play against Simona.
https://www.instagram.com/p/BsBpPUDA-od/
At the time, it looked as if her time at the grand slam was drawing to an end, but she saved two match points to defeat Polona Hercog 3-6 7-6 (9-7) 7-5 much to the delight of the 15,000-strong crowd that watched them on Center Court.
With a whole lot more years of tennis ahead of her, Coco is only getting started. With the world finally knowing her name, they can expect to see more from her in the near future.
Please fill in your e-mail so we can share with you our top stories!