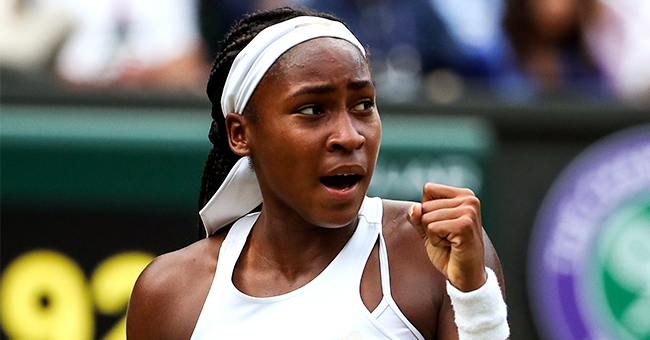 Getty Images
Teen Coco Gauff Continues Wimbledon Win Streak after Defeating Venus Williams

15-year-old Coco Gauff stunned the world yet again after achieving an epic win at Wimbledon. She once defeated Venus Williams, one of the top seed tennis players in the world.
Cori "Coco" Gauff just keeps winning matches, and this has earned her some mad respect from people a lot older than her. Already a new crowd favorite, Gauff heard people scream "we love you" on her first match in the most famous tennis court in the world.
According to her dad, Corey, her daughter has been getting so much support from people and he is absolutely stunned.
"The support has been outstanding. Every match they're calling her name. I sit there and go, like, 'What in the world is going on?'"
An Epic Comeback
During one of her matches, it looked as if her time at the grand slam was drawing to an end, but she saved two match points to defeat Polona Hercog 3-6 7-6 (9-7) 7-5 much to the delight of the 15,000-strong crowd that watched them on Center Court.
Her dad revealed that his daughter's never been a quitter, and he had no doubt he could pull an epic comeback.
"She's always had that fight. She always had it ever since she was a little baby. She had that feistiness in her. She wouldn't quit."
Gauff left the arena with roaring applause, giving autographs to fans who met her along the way.
Struggling with Sjogren's
Meanwhile, Venus Williams has been struggling to have a podium finish since being diagnosed with an autoimmune disease called Sjogren's syndrome.
This particular disease causes its victims to have debilitating joint pain, swelling, numbness, and fatigue. For Venus, this meant tiring practices, stressful games, and a whole lot of pain.
Sjogren's Disease also has the body's immune system attacking its own healthy tissues, particularly its moisture-producing glands. For years, Venus tried to live life normally with the symptoms that were appearing, but now, she finally found the reason why she's been feeling that way.
Now, Venus has constantly been trying to get back in shape, hoping to become one of the top seed Tennis players of today.
Please fill in your e-mail so we can share with you our top stories!