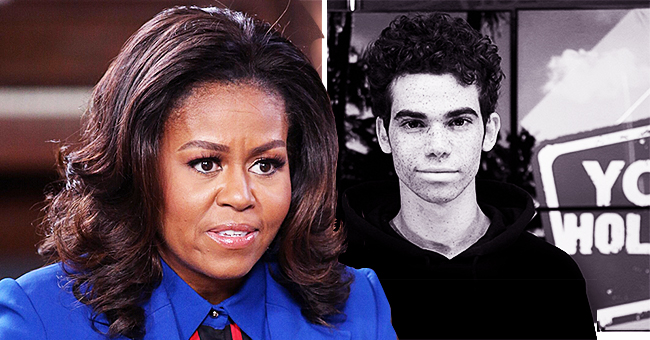 Getty Images
Michelle Obama Pays Tribute to Cameron Boyce Following His Sudden Death

Michelle Obama paid a moving and heartfelt tribute to the late Disney star, Cameron Boyce, who passed away suddenly, commenting on the times they spent together.
As Hollywood tries to come to terms with the news of the sudden death of the young Disney star, Cameron Boyce, Michelle Obama, took to Twitter to share a moving and heartfelt tribute to the late actor.
HE HAD AN INCREDIBLE TALENT AND HEART
Michelle tweeted she was one of the lucky few who got to meet and work with Cameron on the set of his Disney series "Jessie" and in the White House when the former first family invited the cast of the show to their Easter Egg Hunt.
The former FLOTUS noted that the few moments she spent with the deceased, was enough for her to recognize that he had "An incredible talent and heart." The mother-of-two at the end of the tribute sent hugs and love to Cameron's family, friends, and fans.
Michelle and the late 20-year-old actor met several times between 2014 and 2016 and worked together on the White House Joining Forces Initiative.
HIS SPIRIT WILL LIVE ON THROUGH KINDNESS AND COMPASSION
Cameron died on Saturday in his sleep after suffering from a seizure. The actor's family stated in their press release that the seizure is a result of "An underlying medical condition," but "HuffPost" reported that it was epilepsy.
The Boyce family spokesperson said the world has lost one of it's brightest lights, but the young actor's spirit would live on through the "Kindness and compassion" of his loved ones.
The spokesperson added that the family is completely heartbroken, and asked for privacy as they grieve the loss of their son and brother.
ALL OUR HEARTS ARE BROKEN
Cameron was famous for his role on the "Descendants" franchise on Disney, and he also starred as Keithie Feder, on "Grown Ups" and its sequel.
Adam Sandler, the deceased's on-screen father in "Grown Ups," wrote a touching tribute to him on social media. Sandler described the late actor as a "Sweet, funny, talented, and decent kid" whom he loved. He wrote, "Our hearts are broken," and thanked his on-screen son for giving so much to the world and those whose path crossed his.
The Los Angeles native's sister on "Jessie," Skai Jackson, called him the brother she never had, adding that she is grateful they got to spend almost every day together on set.
The coroner's office has not released the cause of Cameron's death due to further investigations.
Please fill in your e-mail so we can share with you our top stories!