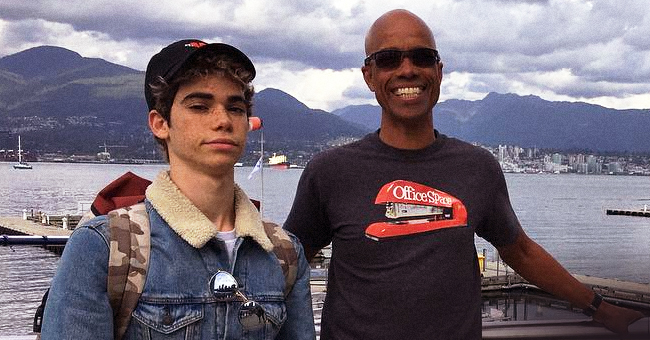 Instagram/thevictorboyce
Disney Actor Cameron Boyce's Dad Speaks out after Son's Unexpected Death at 20
Cameron Boyce's father Victor Boyce has broken his silence after the actor's heartbreaking death.
The premature death of 20-year-old actor Cameron Boyce has plunged the acting community into mourning.
The young man, best known for his roles in the "Grown Ups" movies and the TV series "Jessie" passed away on July 6, 2019.
"The world is now undoubtedly without one of its brightest lights, but his spirit will live on through the kindness and compassion of all who knew and loved him." Boyce family spokesperson
CAMERON BOYCE'S FATHER RESPONDS TO FANS
Victor Boyce, Cameron's father, has responded to the outpouring of grief and condolences from his son's millions of fans.
"I'm overwhelmed with the love and support our family has received. It really does help to ease the pain of this nightmare I can't wake up from. I can't thank you guys enough," he wrote.
Cameron is survived by his parents Victor and Libby, and his younger sister.
Cameron, just 20, passed away in his sleep due to a seizure.
DISNEY CHANNEL PAYS TRIBUTE TO CAMERON BOYCE
The President and Chief Creative Officer of Disney Channel, Gary Marsh paid tribute to Cameron in an email, praising the young actor's talent, his generous and affable nature, and his contribution to his craft.
"His generosity of spirit, his joyful embrace of all life has to offer, and his unwavering commitment to social justice were only a few of the traits that made us all fall in love with him (...) Cameron has been a humble and hilarious presence in our lives — and the lives of tens of millions of kids — for nearly half of his 20 years," he wrote.
STARS OVERWHELMED BY GRIEF
Actors and actresses who had worked with Cameron throughout his career have expressed their grief and shock at the young man's sudden death.
Adam Sandler, who played Cameron's on-screen dad in "Grown Ups" and "Grown Ups 2," also expressed his sorrow on Instagram and sent the family his condolences.
"Too young. Too sweet. Too funny. Just the nicest, most talented, and most decent kid around. Loved that kid," he wrote.
CAMERON BOYCE'S ON-SCREEN "SISTERS" HEARTBROKEN
Peyton List and Skai Jackson who played Cameron's sisters on "Jessie" posted heartbroken tributes to their on-screen brother.
"He was younger than me but taught me how to spread love and kindness more than anyone that has ever been in my life. There is a hole in my heart that will never heal left for you. I will never stop talking about you," Peyton wrote.
"I don't even know where to start… I am at a loss for words. I never thought in a million years I would be writing this," she captioned the post. "Cam, you were one of a kind. My heart will be forever broken. I am so happy that I got to spend almost everyday with you on set, you gave the best hugs… Thank you so much for being the big brother I never had… I am so distraught and I cannot stop crying!" Skai wrote.
We will miss you too, Cameron. R.I.P.
CAMERON BOYCE DIES IN HIS SLEEP
Hollywood was shocked by the news of the death of promising young actor Cameron Boyce.
Cameron, just 20, passed away in his sleep due to a seizure. The actor's family has revealed that Cameron suffered from epilepsy, and succumbed to a convulsion during his sleep.
He is being deeply mourned by the acting community and millions of fans around the world.
Please fill in your e-mail so we can share with you our top stories!