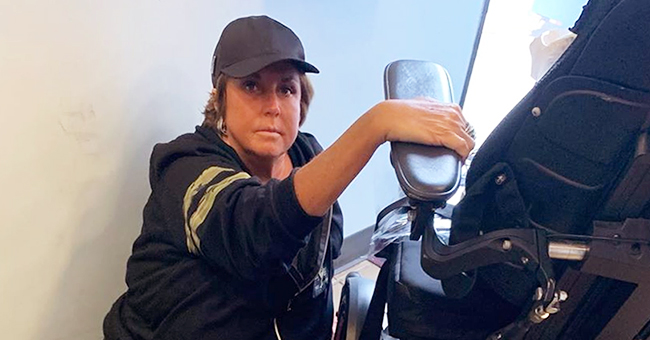 Instagram.com/therealabbylee
Abby Lee Miller Puts American Airlines on Blast after Falling out of Her Wheelchair in a Crowded Airport
Following a tumbling accident at the Airline premises, Abby wasn't going to let the airline off easy as she took to Instagram to criticize them.
As revealed by her Instagram post, which contained an image of Abby on the ground, the incident occurred on Sunday.
The 52-year-old dance instructor and TV personality was at the Pittsburgh International Airport using American Airlines when she fell off her wheelchair.
"Help! 'I've fallen, and I can't get up' isn't that the truth? Let's just say my transfer from the isle chair to my chair didn't go so well! The move should've happened on the bridge like usual and not in front of a hundred people waiting to board" she wrote alongside the picture on Instagram.
Abby went further ahead to shame the staff of the airline for improperly handling her plight by writing:
"I shouldn't have had to ask for someone to call the paramedics, and maybe the @americanair Gate Mgr should've at the very least asked if I was ok?"
However, Abby, who was dissatisfied with what happened seemed to have gotten the help she needed as the latter part of her post showed her thanking the escorts and firemen who she described as 'hot.'
After the native of Pittsburgh, Pennsylvania shared her experience; fans took to her comment section to show sympathy while others joked about the matter.
Among those who sympathized with her was teen dancer, Elliana Walmsley who wrote:
"I'm so sorry. That's awful. I hope you are okay" and followed it with a love-face emoji.
Other internet users such as @stylisa1 didn't think the incident was much of a big deal and described Abby as a "Drama Mama" in the comment section.
The dance instructor subsequently thanked her well-wishers after being overwhelmed by the massive support and admitted that she still had some physical discomfort.
The airline has also made moves to reconcile with Abby following the public criticism. While speaking with PEOPLE, the airline's spokesman Andrew Trull revealed that Abby would be getting a refund and an apology.
"We have been in touch with Ms. Miller to apologize and are providing her with a full refund as a result of her experience." he disclosed.
Please fill in your e-mail so we can share with you our top stories!