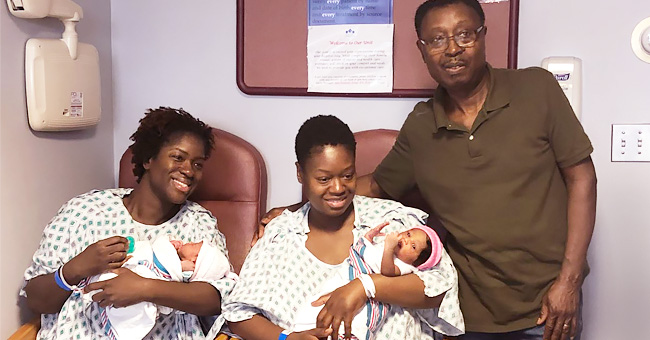 twitter.com/BriellaTReports
Two Sisters Give Birth on Same Day in the Same Hospital on Dad's 70th Birthday

Two sisters, Simone, and Shari Cumberbatch, gave birth to their girls on July 3rd, the same day as their fathers 70th birthday. The doctor who delivered the sisters' babies revealed that although he has one of the most rewarding yet hardest jobs in the world, moments like this were what made it worthwhile.
July 3rd will never be the same for this family in New York city as two sisters gave birth to their baby girls on the very same day as their fathers 70th birthday. The sisters, both from New York, welcomed their babies at Mercy Medical Center in Rockville Centre, Long Island.
Simone and Shari Cumberbatch were not due to give birth until mid-July, but the little girls, Liberty and Hailey, who had other plans could not wait. Simone Cumberbatch had initially planned her Ceaseraen section, so her child could share a birthday with her grandfather Elmo Cumberbatch.
The beaming grandfather said he always said he had an intuition, not knowing it would happen.
"I always used to say what if, what if it happened, not knowing it would actually happen," Elmo Cumberbatch said.
Now he cannot wait to start getting his little princesses gifts. Simone had scheduled her Ceaserean section just hours before her sister went into labor.
"I requested it, but we didn't know we were going to get two the same day," Simone said. They're like twins… they'll be close," Shari joked.
On when her sister Shari went into labor, Simone Cumberbatch told Good Morning America,
"At first I was shocked. I said, Wow this is really happening? When I realized it was real, I said, This is going to be a good thing."
Both girls were born four hours and thirty minutes apart. Simone Cumberbatch gave birth to her daughter, Liberty, at 5:30 p.m while Shari's baby Hailey, had arrived a little earlier that afternoon at 12:57 p.m.
The sisters, both from Queens, share the same obstetrician, Dr. Jay Seraji, who had to postpone Simone's C-section due to her sister, Shari going into labor. The baby who decided to grace the world early wasn't expected until much later, but of course, it was a lovely surprise.
Speaking on the sweet coincidence, the Obstetrician, Dr. Jay Seraji, said it was the first time he's ever witnessed such a coincidence.
"I have the most rewarding but hardest job in the world," he said lovingly to Newstation WNYW. Moments like this make it all worthwhile," he added.
Please fill in your e-mail so we can share with you our top stories!