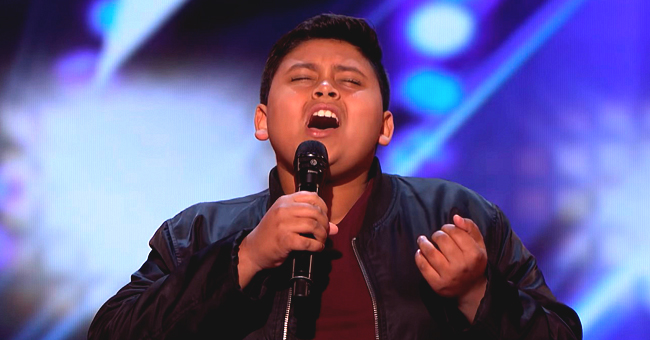 Youtube.com/America's Got Talent
AGT Fans Divided over 12-Year-Old Boy's Golden Buzzer

"America's Got Talent" viewers were left in tears of joy when Luke Islam gave his rendition of a song and compelled one of the judges to give him the golden buzzer. Yet not everyone agreed with the move.
Luke Islam is just 12 years old, but his dreams are incredibly big and he fully intends to reach them. The aspiring broadway singer shared his hopes with the world when he went on the AGT stage on Tuesday and wowed viewers.
Joined by his parents who cheered him on from backstage, Islam sang Sara Bareilles' "She Used to Be Mine" from the musical "The Waitress." Before he began, he identified his favorite judge. The clip and reactions are found below.
Islam, who hails from Garden City, New York, said that he loved Julianne Hough and her brother Derek Hough, whose dancing careers he's been following for "a very long time."
Then, he gave the thumbs up to start and belted out the song with an enormous amount of passion expressed both vocally and in his expressions. The crowd and the judges gave him a standing ovation for the performance.
Gabrielle Union told Islam, "Luke, you should be incredibly proud of yourself because you killed it. You killed it!" Howie Mandel told him he had great poise and that he believed Islam's dream would come true.
Simon Cowell took a different route, giving Islam the advice that he should not put himself "in the generic music pool." He also told him to "sing songs like every one of your performances is an audition for the best producers on Broadway."
When it came around to Hough, she said she was flattered to be a role model for Islam who has "such talent and grace." She went on to tell him that he had something special, "an essence inside of you that has given you a gift."
She continued: "I believe that you are going to become a star and have your dream come true, and I don't think you'll have to wait much longer–" With that, Hough stood up and dramatically hit her hand on the Golden Buzzer.
Islam dropped to the floor in shock. "I never expected something like this to happen in my whole life. I'm so grateful, thank you so much," he said afterward, tears streaming down his face.
At home, several people were so moved by the young boy's performance and reaction to the golden buzzer that they bawled as well. Twitter user Angel B said she was "still crying 10 minutes later."
Christy Birling was so impressed by Islam's demeanor she suggested that the parents also receive a golden buzzer "for raising such a polite, respectful, articulate son."
In contrast, there was at least one person who totally disagreed with the reaction Islam gained from fans and the judges. That person bluntly called Islam's performance "mediocre."
Most people, however, were so overwhelmed by Islam's presence, voice, and appreciative attitude that they couldn't stop crying. Abby Boruff specified that she was "just ugly, ugly crying."
Islam advances to the live rounds thanks to Hough's golden buzzer. He will join other golden buzzer receivers including violinist Tyler Butler-Figueroa, singer Joseph Allen, and pianist and singer Kodi Lee.
Please fill in your e-mail so we can share with you our top stories!