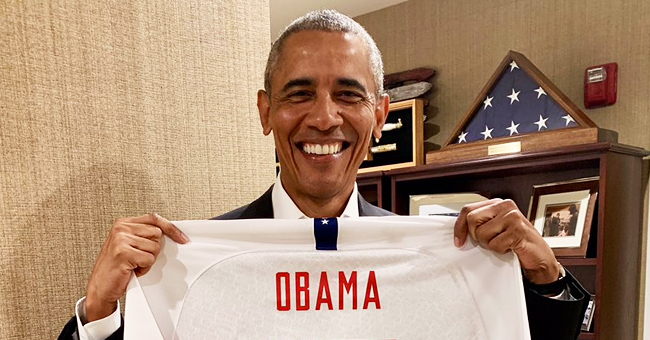 twitter.com/BarackObama
Barack Obama Thanks US Women's Soccer Team for Being an Inspiration after Their World Cup Win
Immediate past president of the United States of America, Barack Obama celebrated the US Women's National Soccer Team's World Cup victory. In a message on his social media platforms, Obama praised the girls' success and thanked them for being an inspiration.
The US national women's football team conquered the rest of the world to win their fourth World Cup in France. Since their success, a lot of congratulatory messages have trailed them and the former president, Barack Obama also lent his voice.
In a message on his Twitter and Instagram pages, the former POTUS thanked the girls for inspiring women.
THE OBAMAS' CONGRATULATORY MESSAGE
Barack Obama shared a photo of himself holding a jersey of the US women's national team, with the jersey number 19, and his name on it. In the message attached to the post, the former president said he was proud to represent America's best team.
He also thanked the girls for being a source of inspiration for women, girls, and everybody in the country.
He wasn't however, thr only Obama to praise the girl's hardwork, Barack Obama's wife, Michelle also congratulated the women in a tweet stating how much of an inspiration they are to everyone.
USWNT PARADE THE STREETS OF NEW YORK WITH THEIR TROPHY
Since winning the trophy, after defeating the Netherlands 2-0 in the final, the girls have been in a celebratory mood. After touching down the country, the team paraded the streets of New York with its trophy amidst a cheering crowd.
The mayor of New York, Bill de Blasio, who opened the parade ceremony, said that the team in winning the trophy for the fourth time succeeded in doing something never done before. They also became the most successful soccer team in the country with their extraordinary accomplishment.
PRESIDENT DONALD TRUMP CONGRATULATES THE GIRLS ON TWITTER
The US president, Donald Trump was somewhat involved in a public spat with the USWNT captain, Megan Rapinoe, during the world cup, but he also congratulated the team on Twitter.
In his congratulatory tweet, the president lauded the great and exciting play of the team and said that America was proud of all of them.
It remains unclear if the USWNT would visit the White House with their trophy. Captain Rapinoe is a strong critic of the President and said she would decline a visit to the seat of power.
Her teammate, Alex Morgan also said that the team would make a decision together on whether to accept President Trump's invitation or not.
Please fill in your e-mail so we can share with you our top stories!