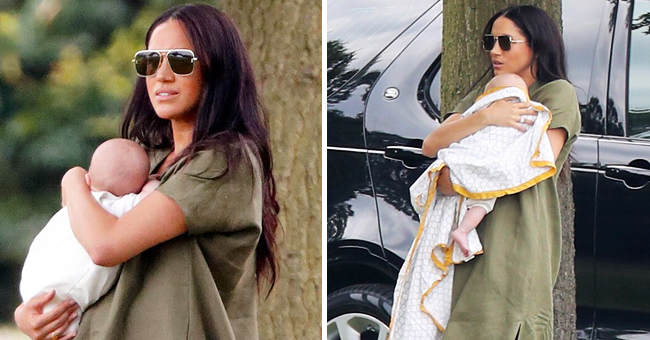 Getty Images
Meghan Markle Looks Relaxed at a Polo Match with Archie
A royal family outing! Meghan Markle stepped out for a day with her family in an oversized khaki dress looking quite relaxed.
Meghan Markle finally "Let her hair down" as she stepped out with Prince Harry and their son, baby Archie, for their first family outing since she delivered him in May.
The new mum showed off her California-inspired style in an oversized khaki dress that enhanced her relaxed look, as she cradled Archie.
The Duchess also had on a pair of aviator sunglasses and switched her signature bun hairdo since joining the royal family for free-flowing hair with a center part.
Markle and Prince Harry were attending the King Power Royal Charity Polo Day at Surrey. The charity event helps the new father and Prince William, who was also in attendance to raise funds and create awareness for the nonprofits they support.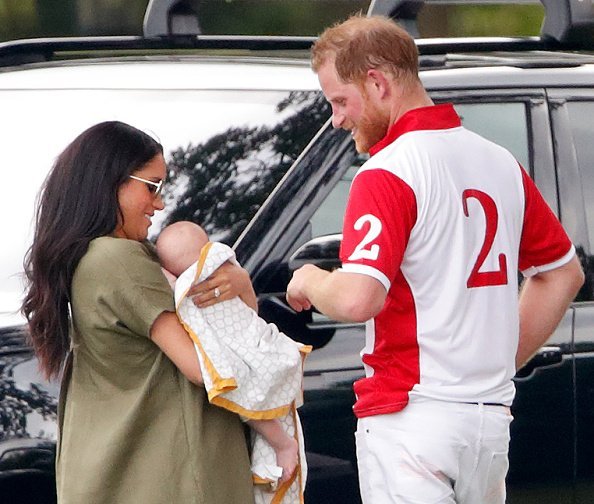 Duchess of Sussex, Archie Harrison Mountbatten-Windsor and Duke of Sussex at the King Power Royal Charity Polo Match | Photo: Getty Images,
Kate Middleton, dressed in a free-flowing pink dress, also attended with her and the Duke of Cambridge's three children — Princes George and Louis, and Princess Charlotte.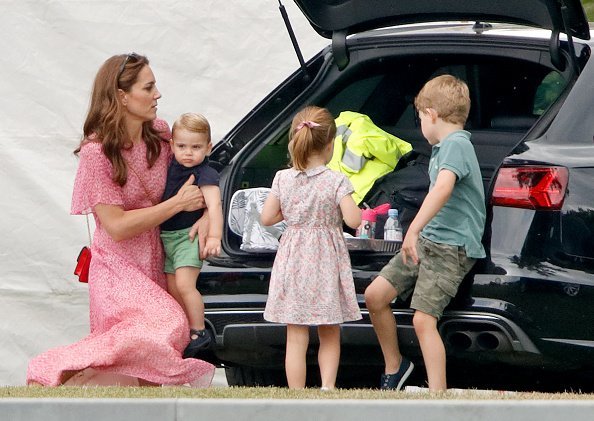 Catherine Middleton, Prince Louis, Princess Charlotte and Prince George at the King Power Royal Charity Polo Match, | Photo: Getty Images
While Markle held baby Archie and got photographed standing next to George, Middleton played in the Grass with 1-year-old Louis. The Duchess of Sussex' California style would come in handy for her trip to Africa later in the year for charity work.
According to a royal source, the former actress would most likely ditch her designer outfits for something more regular and relaxed. The mum-of-one is also expected to show a bit of the culture and traditions of the places she'll be visiting with her husband and son in her dressing.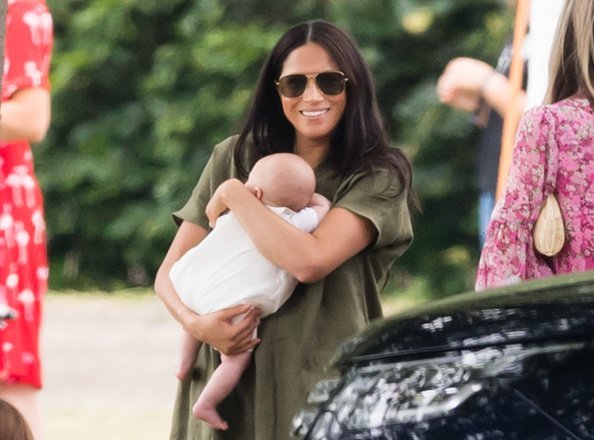 Duchess of Sussex and Archie Harrison Mountbatten-Windsor attend The King Power Royal Charity Polo Day | Photo: Getty Images
Markle's family day outing was not without criticism as those who love to hate the new mum, frowned at the way she held Archie. After photos of the Duchess at the polo match made the rounds, her critics took to social media to mum-shame the former "Suits" star.
Some said Markle looked like she was about to drop the newly christened baby, while others concluded that the Duchess was incapable of carrying her son.
Markle was not without supporters, and her fans asked the mum-shamers to take a hike as every new mother struggles to find the right way to hold their child in the first months.
Love or hate her, the Duchess is oblivious to her critics as she is more focused on enjoying her son and being happy with her family.
Please fill in your e-mail so we can share with you our top stories!