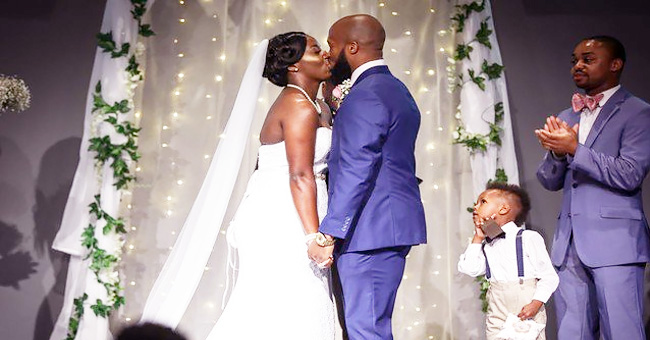 twitter.com/idromance
NC Bride Avoids Debt by Having $3K Wedding, Thanks to Amazon

Ashley Hicks and her husband, who both work in finance, decided when planning their wedding, to be economical and not go into debt for the ceremony. So they planned their nuptials with an estimated cost of $3000, buying everything on Amazon, including a wedding dress of $100.
According to theknot.com, the estimated price of an average wedding in the United State of America is $33,391 and a bride from Raleigh, North Carolina achieved the no small feat of shelling out just $3000 for her wedding.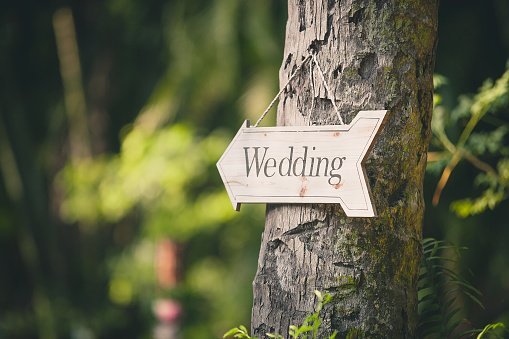 Wedding sign on a tree | Photo: Getty Images
She bought all the materials needed on Amazon, including her wedding gown.
The couple, Ashley Hicks and her husband who got engaged in February were determined not to go into debt for their wedding, and with a budget in mind, the wedding planner suggested they buy all their wedding supplies on Amazon.
The newly wedded woman, Ashley said she would go to local stores to get ideas for the stuff she wanted, and then use the reviews to shop for a similar product on the online store, for the right price.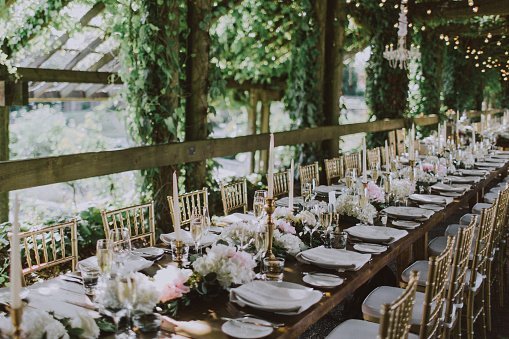 Romantic long table Wedding decor | Photo: Getty Images
Hicks told ABC 7 that she bought her dress, bridesmaid dresses, their shoes, all their jewelry, her husband's suspenders, all the groomsmen's gifts from the online store. She also added that they got the table settings and the plates from Amazon.
When the smart bride went shopping for dresses for the nuptials, she was first disappointed by the prices. Ashley added:
"It was like a thousand dollar dress, and I was like, 'Hmm, I don't know,' " Hicks said of the gown she found in a store. "It was a cute dress, but I knew what I wanted, and I wanted mermaid, I wanted lace."
So once again she returned to Amazon, found a seamstress who resides in China, sent in her full measurement and received her dress in two weeks for just $100.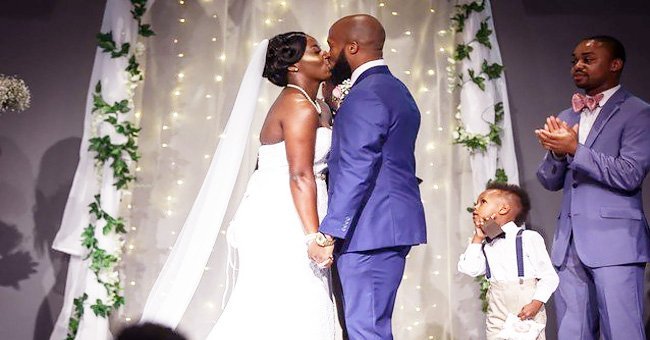 twitter.com/idromance
"I paid $100, technically, it was $99, but I paid $100, and I think a few cents for tax. She was like, 'Okay it will be here in two weeks.' It came, I put it on, and it fit perfect."
The couple married on June 8, with a total guest of 150, all planned at a total cost of $3000. The newly wedded Ashley says she'll be turning to Amazon for all future celebration.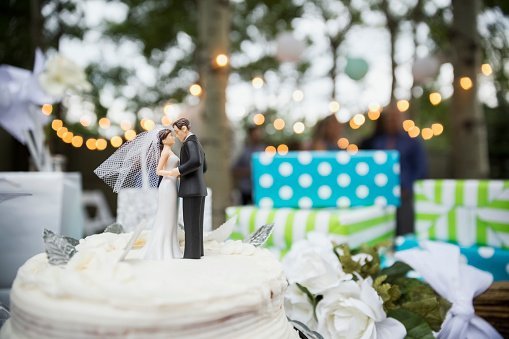 Bride and groom cake topper on cake | Photo: Getty Images
She concluded by saying:
"Amazon is amazing."
Please fill in your e-mail so we can share with you our top stories!