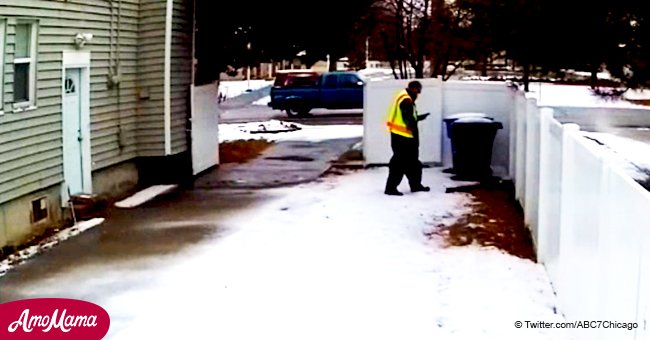 Amazon delivery employee caught relieving his needs in customer's yard
A man named Burke Lewis was shocked to see an Amazon delivery man, whose identity is yet to be shared, urinating on his property.
The incident took place in South Salt Lake and left Lewis both confused and amused because it was not something one sees every day.
According to Lewis, he felt bad for the man because it was quite a cold day and he didn't know how long and how hard he had been working.
NATURE'S CALL
Lewis shared that, due to his job, he uses Amazon a lot and orders around ten items a month but never had a delivery man urinating on his yard before.
"He didn't leave immediately. He kind of walked over to my fence. I wasn't sure what he was doing, so I went and looked out a window and I caught him urinating right by my fence inside my yard."
Burke Lewis, ABC 7 Chicago, January 10, 2019

Facebook/ABC 7 Chicago
The moment was caught on video thanks to the security camera that Lewis had installed after having a very big and important package, worth around $4,000, stolen.
But, although Lewis felt bad for the Amazon employee, to the point of not wanting him to get fired, he still didn't approve of his behavior, which he considered to be highly inappropriate.

Facebook/ABC 7 Chicago
COMPENSATION FOR THE TROUBLES CAUSED
Lewis contacted Amazon and the company immediately apologized for the delivery man's demeanor, offering him $5 credit for the inconvenience, which disappointed Lewis, who was expecting more.
Not happy with the amount, Lewis convinced them to add an extra $5 to his account. The story ended up reaching KSL, and after contacting Amazon, Lewis' credit was increased to $50.

Facebook/ABC 7 Chicago
ANOTHER INCIDENT
This wasn't the first time Amazon had trouble with its delivery system; on October 2018, a delivery woman was caught stealing one of the packages she had just delivered.
After putting the two boxes down, the woman, whose name is yet to be revealed, scanned them and took a picture before taking off with the big one, which reportedly contained a hoverboard.
Follow us on our Twitter account @amomama_usa to learn more.
Please fill in your e-mail so we can share with you our top stories!