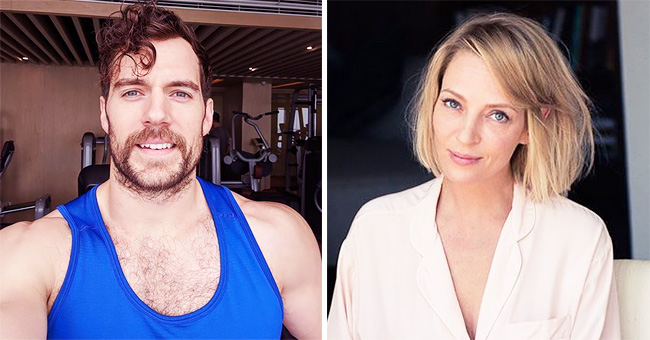 instagram.com/henrycavill + instagram.com/umathurman
Top Ten Famous Taurus Stars

People who were born between April 20 and May 20 fall under the sign of Taurus, which is the second sign of the zodiac and is ruled by Venus.
The reason most people like horoscopes is that each sign is linked to some specific personality features that usually determine a person's nature.
As per Taurus, which is an earth sign and is represented by a bull, Astrology Zodiac Signs claim that they are reliable, patient, responsible, and stable people but also could be stubborn, possessive, and uncompromising.
Now that you know this, judge yourself these ten Taurus celebrities and tell us if they live up to the expectations of their sign.
1. Cher
Born on May 20, 1946, Cher is often referred to as the Goddess of Pop. Apart from her beautiful vocals, she has already proved to be a talented actress taking roles in films such as "The Witches of Eastwick," "Mermaids," and "Tea with Mussolini."
At the moment, the 73-year-old artist has won more than 130 awards, including one Academy Award due to her performance in "Moonstruck," four Billboard Awards, and one Grammy Award. Apart from that, Cher's song "I Got You Babe" was inducted into the Grammy Hall of Fame in 2017.
2. Cate Blanchett
Cate Blanchett was born on May 14, 1969. She is a highly-talented actress who has spent most of her career working on films including "Elizabeth," "Eyes Wide Shut," and the trilogy of "The Lord of the Rings." Apart from that, she has appeared in different stage productions such as "Oleanna," "Hamlet," and "Blackbird."
Nowadays, Blanchett is 50 years old and has garnered several awards during her career, including two Oscars, three Golden Globes, and three SAGAs.
3. Kenan Thompson
Born on May 10, 1978, Kenan Thompson is primarily recognized due to Nickelodeon's "Kennan & Kel" alongside Kel Mitchell. After that, he has been taking different roles in mostly comedy productions such as "Saturday Night Live" and "The Mighty Ducks" franchise.
Due to his outstanding performance on "SNL," Thompson won a Primetime Emmy Award in 2018. At the moment, he is married and has two children.
4. Henry Cavill
The actor best known for portraying Superman in the DC Extended Universe was born on May 5, 1983. Apart from "Man of Steel" and "Batman v Superman," Cavill worked in "Immortals," and "Mission; Impossible – Fallout."
At the moment, he is 36 years old and has won an MTV Movie Award and shares with Ben Affleck the Razzie Award for Worst Screen Combo thanks to "Batman v Superman."
5. Uma Thurman
Uma Thurman, born on April 29, 1970, is a 49-year-old actress best known for "Pulp Fiction" and "Kill Bill." So far, she has three children, including model an actress Maya Hawke.
At the moment, she has won a Golden Globe, a Saturn Award, and an MTV Movie and TV Award. Thurman is set to appear on "Tau Ceti Four" which is still in its pre-production stage.
6. Michelle Pfeiffer
Born on April 29, 1958, Michelle Pfeiffer is best known for playing Patricia Birch on "Grease 2." However, she also took roles in important projects such as "Scarface," "Dangerous Liaisons," and "The Fabulous Baker Boys."
At the moment, Pfeiffer has won different awards such as Golden Globes, BAFTAs, Chicago Film Critics, and Los Angeles Film Critics Association awards.
7. Gabourey Sidibe
Gabby Sidibe, best known for "Precious," was born on May 6, 1983. Apart from the previously mentioned film, which earned her an Academy Award nomination, Sidibe has appeared in "Seven Psychopaths, "The Big C," and "American Horror Story: Coven."
At the moment, she is portraying Becky Williams in "Empire" next to Taraji P. Henson and Terrence Howard.
8. Al Pacino
Born on April 25, 1940, Al Pacino is an actor and filmmaker best known as Marco Corleone in "The Godfather" franchise. His act was so good that it is regarded as one of the greatest performances in film history.
Throughout his career, the 79-year-old actor has won one Oscar, two Primetime Emmys, four Golden Globes, two SAGAs, and two Tony Awards.
9. Barbra Streisand
Barbra Streisand is a singer and actress born on April 24, 1942. Although she is mainly recognized due to her beautiful voice, she has a significant career in the film industry.
Streisand is so talented that she is the only person to receive at least one of the following awards: Oscar, Tony, Emmy, Grammy, Golden Globe, Cable Ace, National Endowment for the Arts, and Peabody.
10. Shirley MacLaine
Born on April 24, 1934, Shirley MacLaine is an actress and singer best known for "The Trouble with Harry," "Some Came Running," and "Ask Any Girl."
The actress has won two BAFTAs, an Emmy, five Golden Globes and received six Academy Award nominations. At the moment, she is 85 years old and only has one daughter, Sachi Parker.
Please fill in your e-mail so we can share with you our top stories!