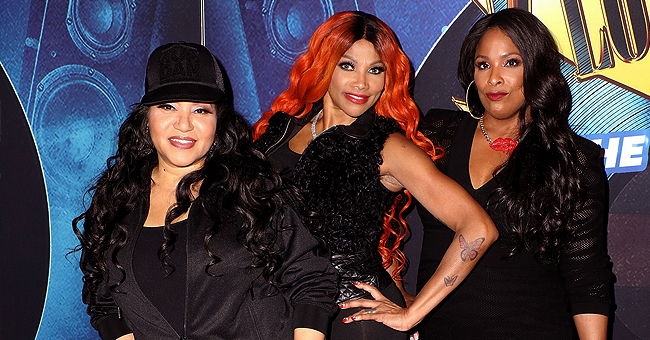 Getty Images
Spinderella Allegedly Sues Salt-N-Pepa after Getting Kicked off NKOTB's Mixtape Tour
Spinderella claims Salt-N-Pepa has been using her all these years without properly compensating her. The DJ raised her complaints in a breach of contract lawsuit she filed against the singing duo, months after she was fired from their concert tour.
DJ Spinderella is out to claim what she believes is rightfully hers. She filed a lawsuit against her former group, Salt-N-Pepa for owed royalties dating back to 1999. Her case comes in the heels of news she was fired from the group's recent tour.
RECENT EVENTS MAY HAVE PROMPTED HER TO SUE
We reported in May that Salt-N-Pepa third member, Spinderella aka Deidra Roper was no longer a part of the group's tour with the New Kids on the Block after she revealed being fired in January via e-mail.
"Despite my participation in promoting the tour and being highly publicized as one of the acts, in January 2019 I received a 'termination' email from #SaltnPepa excluding me from performances with the group," the aggrieved DJ said in a post exposing what happened.
She further explained that she was forced to come out about the issue after no word from promotions informing the public about her exclusion from the tour. "I refuse to participate in misleading fans, ticket holders, and others who — based on all the advertising — were anticipating seeing the iconic #SaltnPepa and #Spinderella trio. So, I'm making it clear now," she wrote.
CLAIMING WHAT SHE BELIEVES IS RIGHTFULLY HERS
Months later and Roper seemed to have found a way to get back at the parties who eased her out. TMZ reports she filed a breach of contract case against Cheryl "Salt" James and Sandra "Pepa" Denton.
The 42-page document filed in a federal court in Texas revealed Roper's claims of being unfairly paid for her contributions to the duo's success. Among her allegations was a 1999 "Best Of" album in which she was promised a third of the royalties to the tune of $125k which she never received.
"..she got nil for her participation in the 2018 Billboard Music Awards and likewise zero in royalties in the past 10 years while James and Denton earned more than $600k."
She also mentions a television show with VH1documenting the group's rise to stardom which only paid her an amount way less than the one-third she was expecting for her guest role.
Moreover, she got nil for her participation in the 2018 Billboard Music Awards and likewise zero in royalties in the past 10 years while James and Denton earned more than $600k.
IT WASN'T AN ISSUE BACK THEN
Things seemed to be okay between Roper and her bandmates in October when she agreed to reduce her talent fee as part of negotiations for her participation in a Las Vegas residency. The agreement which also included deferring her 50% pay was in exchange for higher compensation for Salt-N-Pepa's reunion tour this year with the New Kids on the Block. We know how that deal went.
BUT THINGS ARE MURKY NOW
Roper's lawsuit is accusing Salt-N-Pepa of trademark infringement, fraud, and breach of contract citing how she was an integral part of the group but was not compensated fairly. She also accused the duo of using her name and images in promoting performances without giving due credit to her.
The Daily News tried to reach out to Denton and James' camp for comment. Their manager, James Maynes replied through an e-mail refusing to issue a statement at this time.
Please fill in your e-mail so we can share with you our top stories!