Jessa Duggar Fans Rally Support after She Was Mom-Shamed Online for Ivy Jane's Pacifier Usage
The new mom, who has been a victim of online bashing several times came under heavy criticism again after posting her baby's picture. However, there was a surprising turn of events which had many of her fans coming to her aid.
The 26-year-old "Counting On" star posted an image of her new baby, Ivy Jane, on her Instagram page on Wednesday.
The image featured the little girl tucked in inside a car with a green striped blanket wrapped around her.
However, what caught the attention of Jessa's critics was the 'pacifier attached to a stuffed animal' in Ivy's mouth.
Her comment section was filled with several derogatory statements by the mommy-shamers.
This was particularly unexpected because Jessa came clear with her reasons for giving the 1-month-old a pacifier.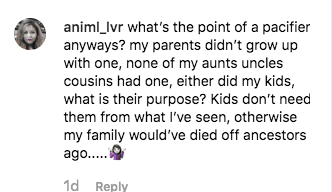 In a caption which accompanied the image, Jessa wrote:
"I pretty much only give her a pacifier for car rides, so she's not super good at taking it, but every time it goes in her mouth, she puts both little fists up on her cheeks like this."
And followed it up with a purple heart emoji.
However, the unfortunate encounter of the mother-of-three with the mommy-shamers got a change of tone as support from other moms, and her fans started to rally in. 
An Instagram user backing the reality Tv star wrote:
"Here's a list of pros and cons. The fact that it *might* reduce SIDS seems like a major pro to me. But like the article says 'the decision to use a pacifier or not is up to you.'" 
Another pro-Jessa comment read:
"We don't need to justify anything we do as moms.  We are all just trying to get through the day. You are amazing."
JESSA HAS HAD BETTER MOMENTS SHOWING OFF HER KIDS ONLINE
Although Jessa is quite accustomed to social media shaming, she has also had her good moments.
Back in June, she shared a picture of her three kids – Spurgeon, Henry, and Ivy. it seemed like Jessa was having one of the most thrilling moments as a mother, as the image showed her kids all loved up on each other.
In the caption which followed the images, Jessa disclosed that 'she was teary-eyed' seeing her older kids with her newborn. She went further ahead to add:
'Spurgeon had two people in the house to love on him. Ivy has double that number. As my mom would always say, 'Love multiplies, it doesn't divide'".
Fans followed up the post with a myriad of sweet words and compliments for the happy mother.