Jessa Duggar Gets Mom-Shamed over Ivy Jane's Pacifier Usage
The "Counting On" star was mom-shamed by fans after she posted a photo of her newborn daughter using a pacifier. 
Moms are often subjected to shaming on the internet, especially when they are famous stars like Jessa Duggar. 
The reality star from TLC's "Counting On" often shares pictures of her children on the internet. 
Recently, she shared a picture of her one-month-old daughter Ivy with a pacifier and fans were divided over whether it was safe for the baby or not. 
Although Jessa was one step ahead of the mommy shamers when she wrote that she only gives pacifiers to Ivy during car rides, the trolls did not step back from criticizing her. 
One of the users expressed their concern for the baby, writing: "Be careful with the ones with animals attached. The weight of it once she has any teeth will pull on her teeth forward."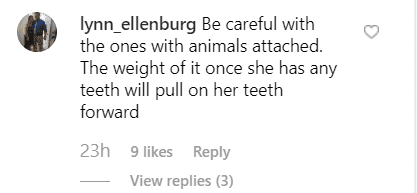 Another fan cautioned: "We do the same thing. Car rides and bedtime, [but] other than that we do not give them to [our daughter]."
While many users shamed her for giving her little baby a pacifier, some of the fans came to her defense.
"Girl, you don't have to justify anything you do!! You were born to be a mommy!!!!!!" one of the users wrote.

Another fan encouraged the mom-of-three to continue to be herself despite the haters. 
"Jesse, frankly I am amazed that you continue to share your sweet babies with us. There are so many picky patties out here just waiting for the chance to pounce on you and tear you down over nothing," the user wrote.  Every one of them thinks they are right and God help you if you do things a different way! Look, in case you have forgotten these are HER BABIES not yours... as my little 8 year old says... mind your own beeswax. (Business) Jessa you are a fabulous mom!"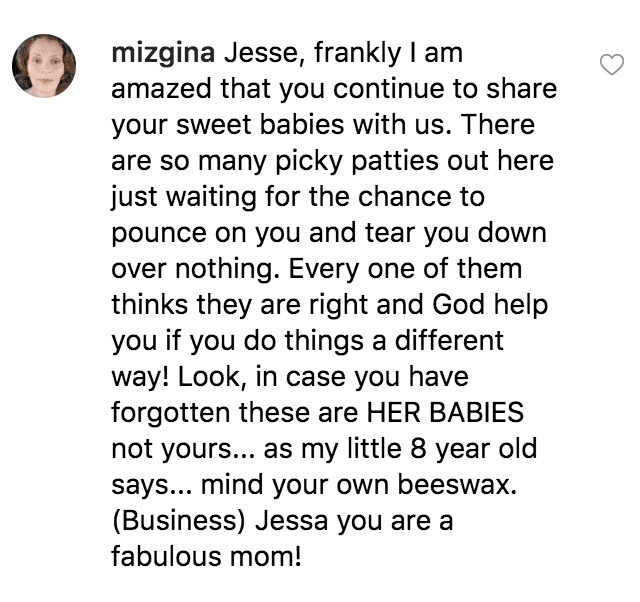 Jessa is not the first member of the Duggar family to be shamed on the internet. Previously, Jessa's sister-in-law, Jill Duggar, was mom-shamed for putting her son in an "unsafe" position in a car seat.
However, negative comments haven't stopped the Duggar moms from sharing their life's moments on social media. They handle every situation with grace.