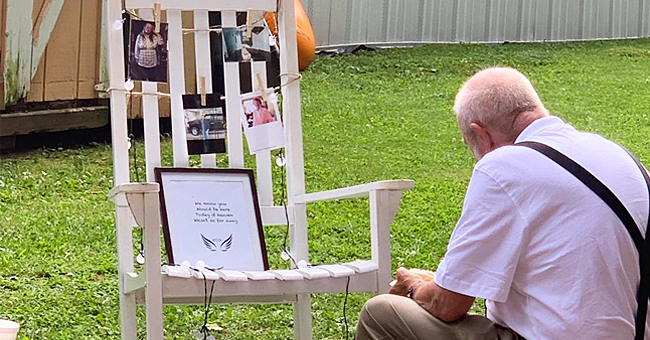 twitter.com/sahrahMichelle
Grandfather Had Dinner with Memorial for Late Wife at His Granddaughter's Wedding

A bride took to social media to share how her grandfather decided to have his wedding meal right by his late wife's memorial stand. The heartwarming story is fast going viral.
An old man decided to honour his deceased wife during their granddaughter's wedding ceremony. To do this, he had a memorial meal of sorts, and a picture taken of the fond moment has made headlines.
The internet is awestruck over the man's thoughtfulness celebrating the beautiful moment alongside his late wife. Via Twitter, Sahrah Elswick, the bride, and lucky granddaughter sweetly shared that her grandpa chose to eat with her deceased grandma during her wedding.
Her short post has garnered likes and become a widely publicized one as she used fond nicknames for her grandparents. Sahrah emotionally wrote alongside the now-popular photo of her grandpa on July 6 saying:
"Pawpaw sat and ate with mawmaw today at my wedding,"
Sahrah had already made plans to honour her late grandma and other deceased members of her family at the wedding. The West Virginia bride set up a memorial site of sorts right at the special occasion.
It consisted of a rocking white chair which Sahrah uniquely adorned with numerous family photos, lights, and a message that read:
"We know you would be here today if heaven wasn't so far away."
A photo of her deceased mawmaw, Barbara is reportedly at the top left corner of the chair. Seeing how elaborately done the site was, it must have been an emotional affair for the bride and her family.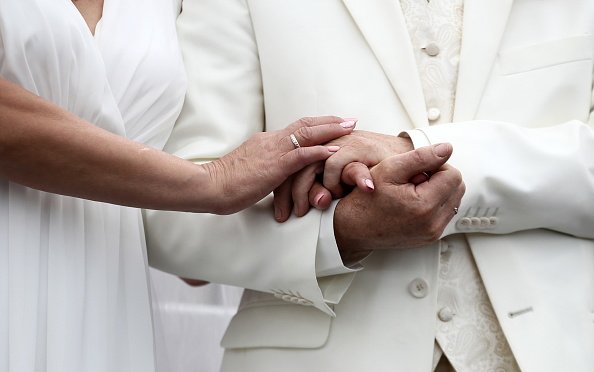 Photo of newly weds | Photo: Getty Images
Not too long into the wedding reception, her grandpa did the sweetest thing ever when he went over to sit on a bale of hay right in front of the chair where his late wife's picture hung.
He had taken his wedding meal with him and after making himself comfortable, started to eat. It was at this point an unknown person took the photo of him from behind.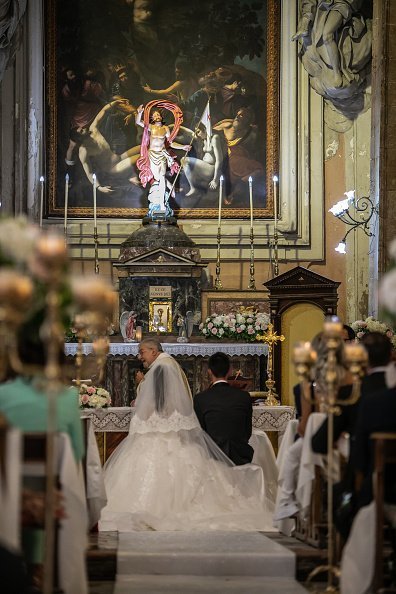 Photo of a wedding ceremony | Photo: Getty Images
The genuineness of the picture couldn't be more evident as the elderly man was pictured enjoying a tender moment with his late lover. Sahrah's post quickly became popular as many Twitter users took to the comments section to air their opinion about the picture.
One user, @itsleviOsa934, commented:
"This is so beautiful."
Another @bitchbi45 tweeted:
"Pawpaw is the greatest man alive."
Sahrah promptly replied that:
"I 100% agree."
While speaking to Best Life, Sahrah revealed that her grandparents had been married for four decades before Barbara died from complications of colon cancer two years ago.
It is a heartwarming story like this one that gets people holding on even when their search for the perfect lover seems futile. "People" detailed another such tale back in 2017, and it was about the video of an elderly man combing his ill wife's hair.
Just like Sahrah's sweet story, the video became very popular for the touching moment and the way it seemed to cause an emotional stir amongst netizens.
Please fill in your e-mail so we can share with you our top stories!