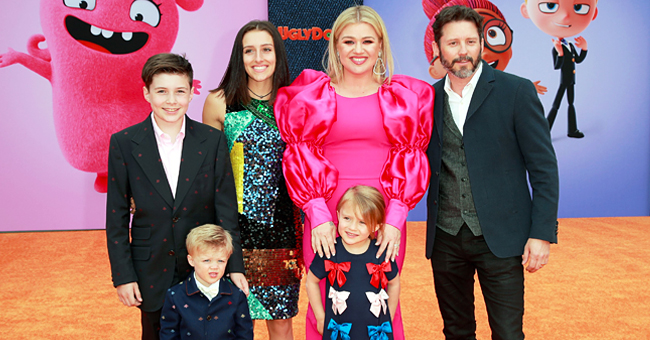 Instagram.com/kellyclarkson
Kelly Clarkson and Brandon Blackstock Are the Parents of 4 Kids - Meet Their Blended Family
Kelly got married to her husband, Brandon Blackstock in 2013. Then, she picked on not only the role of being his wife but also a stepmom to his two children. Meet Kelly's super blended family!
Away from the world of music, Kelly Clarkson is a devoted mother of four children and wife to music manager, Brandon Blackstock.
The pair have been together for more than five years and have four children, two of whom are from Brandon's first marriage.
The country singer subsequently had two children with Brandon, thus bring the whole family to a total of 6.
And although blending families may be a lot of hassles, Kelly seems to be doing very well at it.
A proof of this is the cute image of the whole clan which was taken at her "Ugly Dolls" movie premiere red carpet.
The caption of the post showed how much Kelly was thrilled to have her family by her side. It read:
"So happy to have my family with me for the Ugly Dolls Movie premiere! Such a great movie with a wonderful message!"
Members of Kelly's unique family dressed ready for the camera with the proud mother taking the front lead in a gorgeous hot pink gown that featured puff sleeves.
Kelly has always been one to let her fans know about how much she cherished her family. Here's an insight into the adorable family:
SAVANNAH
The 16-year-old is the eldest of Brandon's children. He had her with his first wife, and as revealed by her Instagram page, she is a big fan of horse riding.
Between Kelly and Brandon, it appears the dad is Savannah's dearest as she once described him as her 'favorite person' in an Instagram post.
Even so, it is believed that there is no strain in her relationship with Savannah as well.
SETH
The little chap is Savannah's younger brother from Seth's first marriage.
He's quite the funny and social as he is often seen having fun with Kelly on her social media page. In 2015, he appeared alongside Kelly's backup singers to sing and dance at one of her shows.
RIVER ROSE
The 5-year-old is Kelly's first child with Brandon Blackstock. She was welcomed into the family on June 12, 2014.
Kelly's two children books, River Rose and Magical Lullaby were inspired by the little kid. Kelly has once described River Rose as 'ballsy'.
REMINGTON
Remington is the youngest of the Blackstock family. He was born on the 12th of April, 2016. According to Kelly, he has the most 'sensitive soul of all the children'.
SOME INTERESTING FACTS ABOUT KELLY CLARKSON
Before her breakthrough in music, she worked as a cocktail waitress.
She rejected two full scholarships to the University of Texas and Berklee College.
She featured on the show "Sabrina, The Teenage Witch" as an extra.
She gained her fame after winning American Idol.
She is the stepdaughter-in-law of Reba McEntire. They even performed on stage together at Kelly's "Meaning of Life" concert in March 2019.
Kelly Clarkson is indeed much more than just a country musician!
Please fill in your e-mail so we can share with you our top stories!