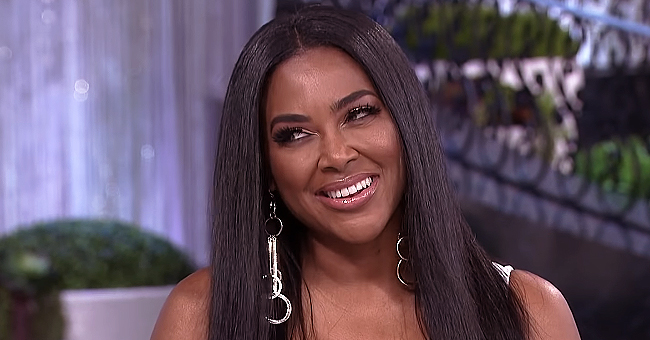 Kenya Moore Shares Cute Photo of Baby Brooklyn Chewing on Teething Necklace
Kenya Moore shared the most adorable pic of daughter Brooklyn Daly, who seems to have an insatiable appetite for mom's jewelry.
All babies seem to go through a phase in which they find shiny colorful objects irresistible...and delicious.
Brooklyn Daly, Kenya Moore's adorable baby daughter seems to have acquired an appetite for her famous mom's necklaces.
"Thank you @kandifor the teething necklace @thebrooklyndaly loves it. Good job @acewellstucker she loves everything." Kenya Moore
KENYA MOORE SHARES ADORABLE SNAP OF BROOKLYN
Proud mom Kenya shared a photo of her 8-month-old daughter doing what babies do best - looking adorable even when they are misbehaving.
In the snap, Brooklyn is doing her best to stuff mom Kenya's stylish looking beaded necklace into her mouth.
Like all babies between the 6 to 24 months of age, Brooklyn's little teeth are breaking through her gums.
THE PERFECT ACCESSORY FOR A MOM
Kenya looked elegant as ever in a stunning green dress, accessorized with a gold locket and a grey and yellow long beaded necklace - the one Brooklyn found so yummy.
It turns out that the necklace is supposed to be delicious - it's a specially conceived teething necklace for babies.
DEALING WITH BROOKLYN'S TEETHING
Like all babies between the 6 to 24 months of age, Brooklyn's little teeth are breaking through her gums.
During this stage, babies suffer from tender and swollen gums, which is only alleviated by chewing on something, sometimes their own fingers or random objects. Teething rings and necklaces offer some relief.
KENYA MOORE RETURNING TO RHOA
But if Brooklyn is cutting her new teeth and getting to be a big girl, mom Kenya is also facing some changes in her professional life.
Bravo TV shared a photo of Kenya in a stunning yellow dress July 10 and captioned the snap:
"Kenya Moore is officially twirling back to RHOA!."
Fans who have missed Kenya's presence on the show are ecstatic, and even more excited since they will be getting two celebrities for the price of one. We mean tiny diva, Miss Brooklyn Daly, of course!
BROOKLYN DALY EXTRA SPECIAL FOURTH OF JULY
The Fourth of July marks a very special date in the history of our nation, our Independence Day, and for Brooklyn Daly, this date will be equally memorable but for very different reasons.
Doting mom Kenya Moore shared an adorable clip of her 8-month-old baby girl crawling for the first time and captioned it:
"I'm growing so fast! I can crawl now and I'm fast already! I can pull myself up, sit up and blow spit bubbles! Highly entertaining ??#miraclebaby#babybrooklyn"
Kenya and husband Marc Daly welcomed Brooklyn in November 2018, and the two are reveling in every second of being the proud parents to their adorable little angel.
Please fill in your e-mail so we can share with you our top stories!