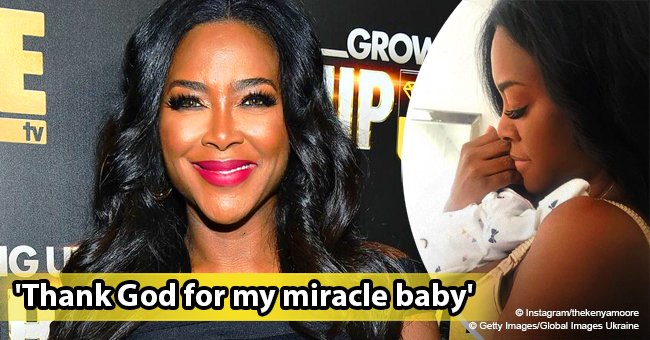 Kenya Moore shares first picture of her holding newborn daughter Brooklyn Daly on Thanksgiving

Kenya Moore, the reality star best known for "Real Housewives of Atlanta," took to Instagram to share the first photo of her holding her newborn baby named Brooklyn Daly.
In the photo, the woman appeared gently hugging the baby close to her chest. Brooklyn was wearing a white onesie with little black details all over it. One of the aspects that most people noticed was that Kenya was covering her face.
For the caption, the "RHOA" star thanked God for her "miracle baby," her husband, and her life. She added that when people have faith in God all things were possible. Finally, Kenya wished her followers a happy Thanksgiving from the Daly family.
PEOPLE'S REACTION
As soon as she posted that picture, her followers took to the comment section to share their thoughts. Most of them congratulated her and her husband, saying that they deserve a child and to be happy. Others thanked her for sharing such a beautiful photo with them.
THE DALYS
Kenya and her husband, Marc Daly, welcomed to the world their first daughter on November 4. She became a mother at 47 years of age after getting pregnant via In Vitro Fertilization (IVF). Earlier this month, she uploaded a photo of Marc while in the delivery room and, in the caption, she confessed to being grateful.
"It all started with you... If I had not met my king I would not have become a mother to the most beautiful baby I have ever seen I am so thankful for you. You two are my whole world. I love you Mr. Daly---Mrs. Daly," wrote Kenya.
NOT RESTING AFTER THE C-SECTION
Recently, Moore made headlines for sharing a short clip of her shopping at a Target store four days after having a C-section. In the video, Moore appeared wearing black leggings and a pink shirt while riding a motorized shopping cart through the previously mentioned establishment.
The reality star wrote that her daughter, Brooklyn Doris Daly, came early and that weeks would have to go by for her to be able to walk again without feeling the "excruciating pain" of a C-Section.
While some people considered that she was brave for doing so, several others said that it was a bad decision. Moore's followers said that she should be resting in bed instead of going out to make her recovery process as fast as possible.
THE BABY'S NAMES
The proud mother took her time to reveal the "special meaning" of her daughter's names, Brooklyn Doris. Kenya said that they chose Brooklyn because that's where she and her husband, Marc Daly, met and fell in love.
Doris was her grandmother's name (who passed away in November 2017) and, since she raised Kenya, the "RHOA" star thought that giving her daughter that name would be a good way to honor her memory.
Please fill in your e-mail so we can share with you our top stories!