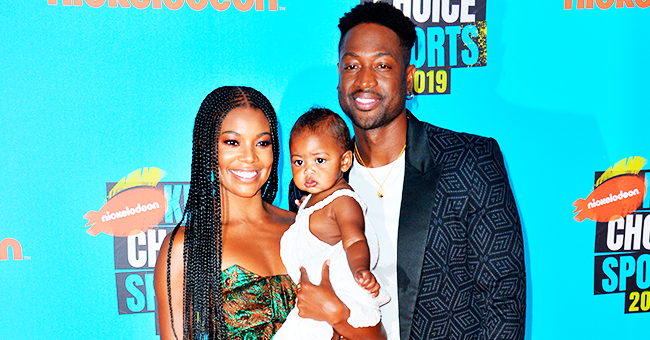 Shutterstock.com
Gabrielle Union's Baby Kaavia Makes Red Carpet Debut at Kids' Choice Sports Awards
Tiny celebrity Kaavia "Shady Baby" Wade made her first red-carpet appearance at the Nickelodeon Kids' Choice Sports Awards.
On July 11, 2019, actress Gabrielle Union and basketball legend Dwyane Wade were privileged to step out on the red carpet at the Nickelodeon Kids' Choice Sports Awards with their little diva, Kaavia James Wade.
Mom and dad may be red carpet veterans, but Kaavia stole the show with her powerful personality and her famous scowl.
"Obviously our story is very documented and we were waiting on her arrival for a long time. … It's a lot for her but she will look back at these moments and appreciate them when she comes back again and she's walking." Dwyane Wade
"SHADY BABY'S" RED CARPET DEBUT
The celebrity couple was virtually background, as all eyes fastened onto their 8-month-old daughter who is known in social media as "Shady Baby."
Mom and dad smiled proudly, while Kaavia bestowed a disdainful stare on fans and photographers eager to document the historic moment.
GABRIELLE UNION STUNNING AS ALWAYS
Gabrielle, who is known for her infallible taste, did not disappoint in a peacock-patterned cocktail dress by Antonio Berardi and gold heels. Wade stepped out in a black short suit, sneakers, and checkered socks. Kaavia wore a sweet white sundress and tiny white sandals, and her favorite shady expression.
KAAVIA LEARNS A NEW TRICK
According to Gabrielle and Dwyane, Kaavia has now picked up a new and adorable habit: nodding. But, dad says, she's a strong-willed little miss who knows what she wants.
"She's very particular about everything, just like her mother. But I love it because she lets you know who she is and what she wants and what she doesn't want and what she loves, so it makes it easier for me to be like, 'Oh, you don't want that? Okay, cool.,' " Dwyane said.
"SHADY BABY'S" HAPPY FAMILY
Kaavia certainly has a lot to smile about. She is Gabrielle's miracle baby and was born through a surrogate after the actress struggled with fertility issues for many years.
Kaavia is the youngest child - and the only girl - in a household that includes 3 big brothers from Dwayne's previous relationships: Xavier, 5, Zion,12, and Zaire, 17 — and helping to spoil her, even more, is her cousinDahveon, 17, who is also being raised by her dad.
Gabrielle Union confided that Kaavia already has all the men in her life wrapped around her finger - and mom too!
"SHADY BABY" AND THE GIFT OF THE GAB
Gabrielle Union's daughter, Kaavia James has her 800,000 followers on Instagram completely mesmerized just with her expressions, and now it looks like she's getting ready to dazzle them with her wit.
But we'd better get ready because when this little miss starts to talk she's going to be shaking things up big time.
Gabrielle posted a clip of her daughter talking - or rather gabbing - and she certainly likes to make herself heard and in the most adorable assertive manner.
We can't wait for this tiny diva to start smart-mouthing the world.
Please fill in your e-mail so we can share with you our top stories!