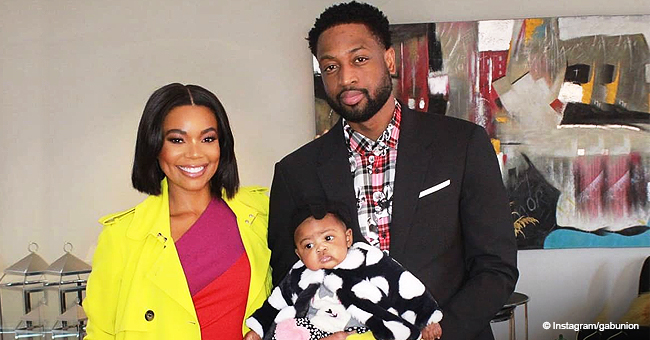 Gabrielle Union Shares Sweet Video of Dwyane Wade & Daughter after News about Husband's Retirement
Nothing beats family time; no wonder it is incredibly important to the 46-year old African American Actress, Gabrielle Union. In a recent post uploaded to her Instagram page, she shows off the unique father-daughter moment shared in a pool between her daughter and husband. The clip was posted after the news of her husband's retirement broke.
Married to 37-year-old NBA Hall of Fame hero, Dwayne Wade, the delectable actress shows the world how the seasoned basketball player is not only excellent at games, but also quite successful at bonding with their four-month-old princess, Kaavia James Union Wade.
The pool-bonding post received a lot of comments from her fans. While some fans focused on the message she was trying to pass across, others thought her baby needed a waterproof diaper, and felt it was not cool showing her baby's butt.
The family has a powerful bond, and when it is not father, mother, and daughter hanging out, then it is just mommy and daddy enjoying special moments. The couple stepped out to a restaurant on March 9, leaving their baby in the care of a babysitter.
After Wade's retirement announcement in September 2018, the NBA decided to gift him an impressive send-off plan in the form of a tour.
The "One Last Dance Tour," had fans and lovers of his talent and skills trooping from every nook and cranny. Some fans wanted an autograph from the star, others pictures, but ultimately, his impact as a member of the "Hall of Fame" earned him such genuine affections.
His wife has come out to dish words about how she felt about the tour which will usher in his retirement. In her words:
"The one Last Dance Tour has been bizarre. Bizarre because I'm just used to him always playing, and either getting ready for a season, in a season, relaxing from a season, and knowing that this it, it's just bittersweet."
It appeared his sister was also aware of the whole situation, and she stated in an interview how proud she was of her baby brother. She said:
"It's giving me chills, we are excited, we are happy. We are happy about the game he's played for the last 15-16 years; we're proud of who he is, not only the man on the court but off the court".
Gabrielle, however, confessed she was satisfied with the news. After playing 16 seasons, 13 all-star games with three championships conferred to his name; she said she would love him to venture into something else.
Please fill in your e-mail so we can share with you our top stories!