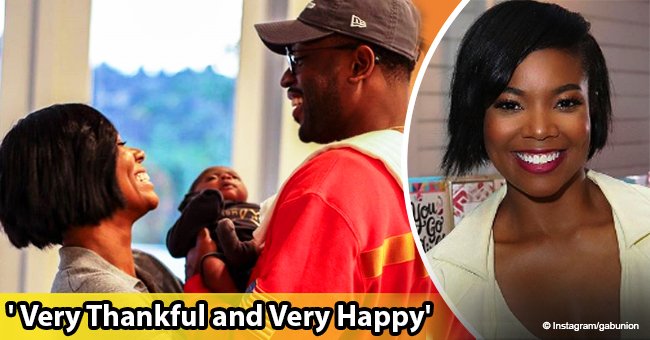 Gabrielle Union and Dwyane Wade are all smiles in photo on their first Thanksgiving with daughter

Gabrielle Union and her husband, NBA professional player Dwyane Wade, are happier than ever thanks to their newborn daughter, and they are not shy to show it on social media.
On Thanksgiving, Gabrielle shared one of the latest posts of her baby. The photo portrayed the actress wearing a grey shirt and rocking a short hairdo flashing her beautiful smile at Dwyane, who put on a red shirt and a grey cap.
The highlight of the image, however, was baby Kaavia James, who was between her parents in a pretty little onesie. In the caption, Gabrielle admitted to being thankful and happy.
SHARING MORE MEDIA OF KAAVIA
Another post showed Kaavia smiling to the camera in the most adorable way while Gabrielle was looking at her.
The actress is not the only member of the family who posted a video showing the baby. Dwyane shared a clip saying goodbye to his wife and daughter before leaving to Chicago.
He did so to play in the Miami Heat vs. Chicago Bulls basketball game after his two-week paternity leave ended after a seven-game hiatus.
MEETING OPRAH WINFREY
Apart from being around her parents, Kaavia has done what most people won't: meet Oprah Winfrey. Last week, the couple welcomed in their home the legendary TV personality for an interview.
Even though they didn't say much about it, they set clear that Oprah visited them to "discuss our new bundle of joy." That interview is set to air on December 8 on OWN.
DIGGING INTO KAAVIA'S LIFE
Gabrielle and Dwyane welcomed their little bundle of joy on November 7 after years of trying to conceive. Their "miracle baby" was born via surrogate.
The actress suffered multiple miscarriages and failed IVF attempts in the past. This prompted the couple to turn to surrogacy, what turned out to be the best decision in their lives.
TALKING ABOUT THE BABY'S NAME
While the birth of the baby was a big milestone in the couple's life, several people have wondered why they chose "James" as her middle name.
Some said that it was because of NBA player LeBron James, who played with Dwyane for a long time, but Gabrielle took to Instagram to tell the truth.
"Great question. We wanted my family represented in her name. My godfather is my Uncle James Glass. She is named after him.. and then Union… that's… ya know… me [sic]," revealed the actress.
Apart from Kaavia, Gabrielle is the step-mother to Dwyane's three sons named Zaire, Zion, and Xavier.
Please fill in your e-mail so we can share with you our top stories!