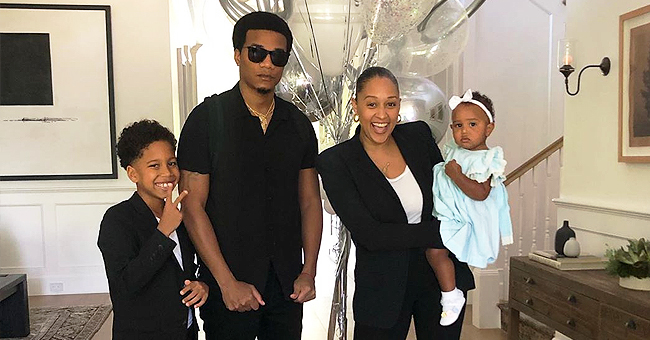 Instagram/tiamowry
Watch Tia Mowry's Daughter, 1, Walk Adorably after Taking Her First Steps

Tia Mowry shares her joy over her daughter learning to walk in an adorable video where her two-year-old, Cairo reveals what an expert she already is.
Tia Mowry marked another milestone in her daughter's young life. Her one-year-old Cairo can now walk on her own and she made sure to document it.
An adorable video shared by the mother-of-two reveals her daring daughter utilizing her feet as she was meant to. "Look who's walking," the proud mom says in the clip as she follows her toddler who appears to be in awe of her new skill.
CELEBRATING HER DAUGHTER'S NEW SKILL
Dressed in a white onesie and a floral headband, Cairo showcased her expertise walking with her shoes on to the delight of her mother. She prances around their home with the confidence of a two-year-old despite having turned one only in May.
"Hi Boo Boo! Hi Munchikin! You look so pretty!" Tia says in the background as she follows her daughter with her camera. "Where you going? Where you going buddy?" she asks. The clip ends abruptly with Tia saying "bye bye" but we're certain Cairo kept walking in circles in their home.
YES TO BED-SHARING
Tia has always prided herself in being a mother to her two children. She has an older son, Cree who's eight and has been witness to his mother's nurturing parenting style. In fact, Tia recently revealed Cree bed-shared with her from birth until four to shield him from any form of stress induced by sleeping alone.
NO TO SPANKING
Tia is also against corporal punishment when it comes to disciplining her children. For her, spanking isn't an option because she doesn't want to instill fear in her children. Instead, she would rather take the time to talk to them and explain why they did wrong.
Tia told "The Breakfast Club" that this is not a view her own mother or sister, Tamera Mowry shares with her. She admits being spanked growing up and that her sister does that too to her own children. Regardless, she doesn't condemn those who choose to discipline their children through spanking. "That's just my opinion," she says.
It's likely her husband, Cory Hardrict who she's known for 21 years harbors the same views as her. A sweet post the former child star shared on her Instagram celebrating their more than two decades together reveals how strong their partnership is. No doubt, it was strengthened by being parents together and making joint decisions about how to raise their kids.
Please fill in your e-mail so we can share with you our top stories!