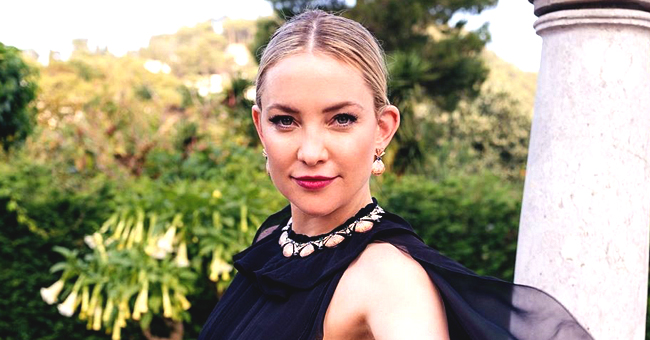 instagram.com/katehudson
Kate Hudson Shares Adorable Photo of Her Baby Daughter Rani Rose
Kate Hudson posted the cutest photo of her youngest daughter, Rani Rose, being carried while she and worked on her clothing line.
Not only is Kate Hudson a successful actress, but also a proud mother to three beautiful children. The "How to Lose a Guy in 30 Days" actress frequently posts about her family online, and recently she shared a photo with her youngest, Rani Rose.
"My designer for @happyxnatureofficial @michelemanz and I getting some work in on the weekend in our summer," she captioned the post on Saturday.
Rani Rose could be seen being carried by her mother on the photo as the little girl looks up to Michelle Manz standing beside her mom. Fans of the actress quickly reacted to the picture through comments which were filled with compliments and positivity.
Many Instagram users reacted to Hudson's precious daughter and commended her for being a great and beautiful mother. One comment read:
"Congratulations on your beautiful baby, I just wanted to tell you that you are a wonderful mother, and wow, you look amazing. I hope you and your amazing family have an amazing wonderful life."

Instagram.com/katehudson/
A majority also took to the comment section to emphasize how gorgeous Hudson's dress was and asked where the actress got it from. The comment "love that dress" frequently appeared from different people.

Instagram.com/katehudson/

Instagram.com/katehudson/
Hudson's three children have different fathers: Rani Rose's dad is the actresses boyfriend since 2017, Danny Fujikawa, 15-year-old Ryder's father is Hudson's ex-husband, Chris Robinson, and 8-year-old Bingham's father is Matt Bellamy, an ex-partner.
Despite their situation, co-parenting has been "quite amazing" for the A-lister, she once revealed. Although divorce means ending a relationship in one aspect, it still continues in another after having a child.
Unlike her kids, Hudson did not have a good relationship with her father, Bill, after he and her mother, Goldie Hawn, separated in 1980. Their marriage went in shambles when Hawn proclaimed she wanted an open relationship.
"Goldie was having affairs. She told me pretty much on our wedding night she wanted an open marriage that she couldn't imagine being faithful to one man for the rest of her life. I wanted a traditional marriage, but Goldie couldn't settle," Bill said.
Please fill in your e-mail so we can share with you our top stories!