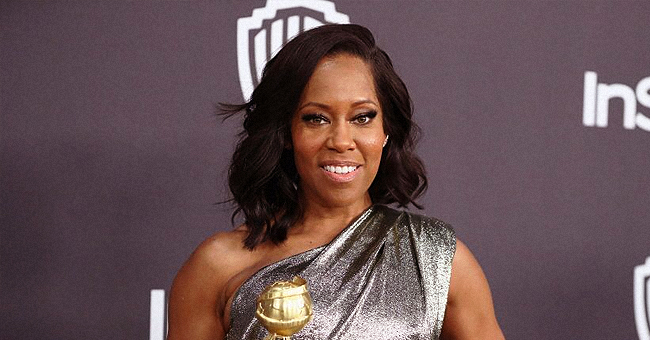 Getty Images
Regina King Channels Lady of Rage in Afro Puffs and No Makeup (Photo)

The delectable African American actress, Regina King, looks nothing but stylish in a picture which showed her rocking afro puffs and a Denim top.
Her Instagram upload gained an array of likes from her followers who thought the look was "adorable" and that she brought some "old school vibes" with the appearance.
Her puffy hair and Denim Jacket exemplified simplicity yet fashionable. She crowned the look with big round earrings and very little makeup on her face. The post @iamreginaking was captioned:
"I rock Rough and Stuff."
The Oscar-winning actress always brings on her A-game in most of her appearances, so fans and followers are not new to the richness of her beauty!
Aside from the fact that she effortlessly slays with her style, the Tinseltown beauty also does an excellent job when it comes to the delivery of her roles in movie productions.
King's exceptional acting of her role in the Barry Jenkins movie adaptation of the novel "If Beale Street Could Talk" by James Baldwin earned her an Oscar award. Her prowess is easily recognizable, as Times also named her one of the most influential people of 2019.
According to Hair Tales, which was nametag the "vagina monologue for black hair," (a clip detailing African American women in Hollywood's dilemma with their hair) several African American women deal with the troubles of keeping and grooming their naturally curly hair.
The show's creator, Micheala Angelina Davies, features different black women to give an account of their story with the curly, kinky hair.
The program's fans are kept abreast with information on how to care for natural curls and even the extent of which a woman should pamper, embrace, and appreciate her hair!
Emmy award-winning star, Regina King, was on the show to share her story. Others to have starred on "The Hair Tales" includes Tasha Smith and Mara Broc Akil.
Regina, in the course of her hair revelation, explained how she bagged the role on NBC's "227." The actress further talked about how being on the sitcom helped her hair tresses.
In her words:
"When I started 227, is when i got my first relaxer, got my second relaxer and it burned, and my third and my fourth. They all burned."
The Oscar-winning actress also explained her hair journey in the movie classics, "Poetic Justice," and "Boys N The Hood." That was not all, in the clip, she ensured to continually remind and encourage black women on the importance to care for and improve their hair as all are admiring them.
Regina King, along with her sister, was raised by her single mom, Gloria. The actress claimed that it was the morals instilled in her by her mum that helped her achieve success in her career.
The TV star shares a close and personal relationship with her producer son, Alexander with the pair having similar tattoos.
She has shown beyond reasonable doubt her passion for her career, which has strived over the years. But she has also taken into perspective her natural look, which is quite admirable.
Please fill in your e-mail so we can share with you our top stories!