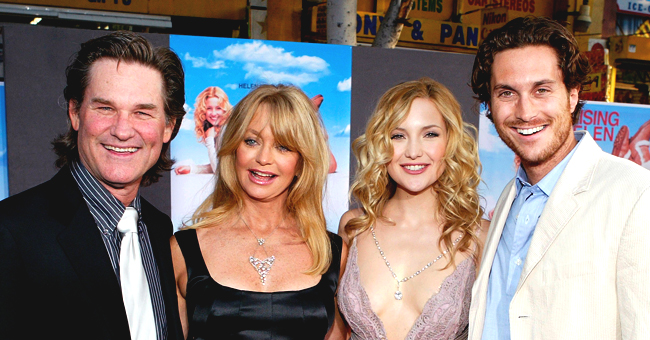 Getty Images.
Kurt Russell Once Punished Kate Hudson's Brother Oliver by Making Him 'Shoot up' His Own Car

Oliver Hudson affectionately calls Kurt Russell "Pa" and revealed the craziest punishment he ever got from him during a talk with Jimmy Kimmel.
Goldie Hawn started dating Kurt Russell after Oliver turned 6. Since then, he became a constant in Oliver and his sibling's lives, which included the enforcement of punishment when needed.
The actor shared that at the age of sixteen, he and a group of friends accidentally shot a group of adults with loaded paintball guns. Oliver and his friends landed at the police station, and after the police officers found out who his parents are, a funny situation unfolded.
"They started fighting over who is going to make the call," Hudson recalled laughing. But Oliver didn't laugh after Kurt picked him up from the police station.
Kurt told Oliver that as punishment, he had to shoot his own car with his paintball gun and drive it like for as long as he owned it.
"My punishment was to shoot up my Honda Prelude with a blue leather interior," he told Jimmy Kimmel. "I had to shoot up my car, dent it up, and drive that for the rest of my existence."
Oliver and Kate had been estranged from their biological father, Bill Hudson for years. In 2015, he took a stab at Bill on Father's Day with a throwback picture of the three and a caption that read, "Happy abandonment day... @katehudson."
Bill Hudson responded by cutting them out of his life and asked that they stop using his last name. "I would ask them to stop using the Hudson name. They are no longer a part of my life. Oliver's Instagram post was a malicious, vicious, premeditated attack. He is dead to me now as is Kate. I am mourning their loss even though they are still walking this earth," he told DailyMail.
According to Bill, his ex-wife Goldie tried to create the image of a perfect family with Kurt and pushed him out of his children's lives.
"When we split up, she never had a bad word to say about me. But when Kurt came on the scene, the narrative changed, and I became the big, bad wolf," he told the publication.
Kurt and Goldie got together in 1983, three years after her divorce from Bill, but they never got married. After three decades together, Goldie shared the reason why she and Kurt decided not to get married.
Please fill in your e-mail so we can share with you our top stories!