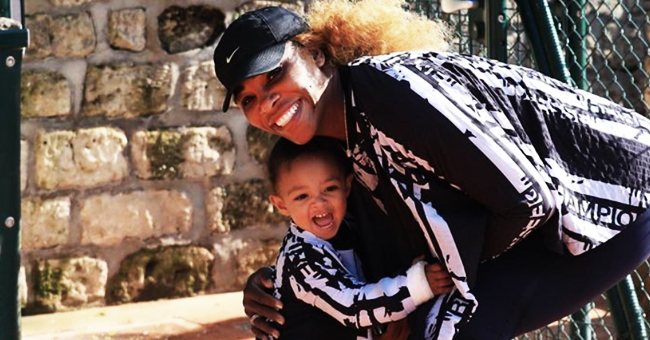 instagram.com/serenawilliams
Check out Serena Williams' Nightly $900 Skin Routine That She Does with Daughter Olympia
The Grand Slam champion, Serena Williams shares her nightly routine with her fans, reveals that her daughter Alexis Olympia also joins her in carrying out the beauty regimen.
Often described as the greatest athlete of all time, Serena Williams shares her skincare routine in a new episode of "Go To Bed With Me," a video by Harper Bazaar.
In the new clip, the tennis pro reveals that her 22 months old daughter Alexis Olympia loves to hang out with her while she gets ready for bed at night and follows along with her nighttime beauty practice, which costs almost $900.
Little Olympia and her mother like to spend this special mother-daughter time together every night as they perform their beauty routines together.
Starting the routine off by cleansing off her makeup with coconut oil, which she calls amazing, Williams shares that Olympia also has a love for the oil as she slathers the grease all over her face and lips, to make sure all of her makeup is removed completely.
For the second step in the nightly routine, both Williams and her daughter reach for a Vitamin C serum and eye serum, both from the brand Vine Vera, which she discovered while she was in Mexico for her babymoon.
Williams lets the toddler give her a couple of dabs. Then, the 23-time grand slam winner mixes the eye serum with golden eye treatment mask from MZ skin brand, which she found on her trip to London.
"Typically you want to leave it on for 10 minutes," the Olympic medallist said of the eye mask, which helps in combatting dark circles.
Moving along was the penultimate step in Williams's nightly beauty routine, face cream. The Queen of WTA, Serena slaps on a layer of the anti-aging face cream and topping it all off with a facial spray.
She favors the Facial Spray with Aloe, Herbs, and Rosewater by Mario Badescu, a known favorite brand of her long-time pal, Duchess of Sussex, Meghan Markle.
With a few spritzes of the Mario Badescu rosewater, Serena Williams caps off her beauty routine, which she says her best friend uses to set off her makeup and recommended to her.
The star admitted saying:
"But I always use it at night too because I just like the way it smells."
Roses are Serena Williams favorite flower which is why she favors the rosewater setting spray. However, at the end, the beautiful Tennis player's skin looked flawless and ready for a good night sleep.
Please fill in your e-mail so we can share with you our top stories!