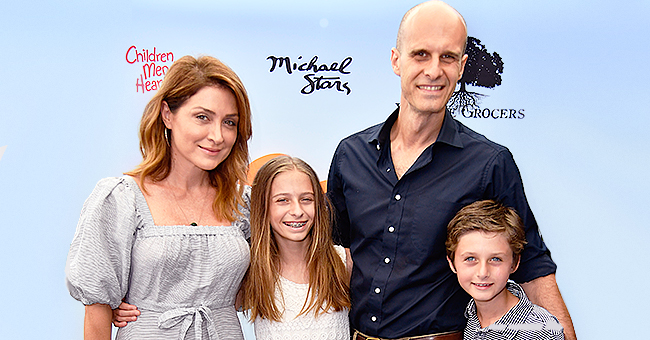 Getty Images.
Sasha Alexander of NCIS Fame's Marriage with Sophia Loren's Son
Actress Sasha Alexander not only reached success in her career but also found balance in her life and love with Edoardo Ponti, son of the screen icon Sophia Loren.
The pair first met a few months after Sasha's run as Caitlin Todd on "NCIS" came to an end. Her mother ran into Eduardo Ponti, the son of Sophia Loren and Carlo Ponti at a screening and gushed to Sasha about him afterward.
"I met the nicest boy; you should go out with a great guy like that," she told Sasha at the time. Astounded, Sacha replied, "Mom, do you know who his mother is?" Evident by her mother's reply, she knew indeed as she said, "Oh, no wonder he was well-raised."
Sasha and Edoardo initially met at the University of Southern California's film school where they both studied. They dated for a short period and got engaged in January 2006. A few months later, on May 12, Sasha gave birth to their first child, a daughter named Lucia Sofia in Geneva, Switzerland.
During an interview, Edoardo told how he wrote letters to their unborn baby, once a week for the duration of her pregnancy.
"They are basically letters to my child on life, on love, on relationships, on my own childhood memories, on mistakes I have made, lessons I have learned. It's like an instruction manual for my kid starting life," he said.
The new parents waited until the next year to get married and finally tied the knot on August 11, 2007. Three years later, on December 20, 2010, the couple welcomed their second child, a son named Fortunato Ponti to the world born in Geneva like his four-year-old sister.
"We are so thrilled to welcome our little Leonardo. He's a wonderful gift, and we are all in love – especially the grandmas!" Sasha and Edoardo said in a statement.
According to Sasha, her mother-in-law and proud grandmother, Sophia Loren is as grounded in her personal life as much as she earned her iconic status in public.
"The best thing about it is that she is the most normal person, and I have the utmost admiration and love for her. I know that she is an icon and an absolute legend, but as a family member, the most beautiful thing is that she is really, really normal," she said during an interview in 2010.
With a busy acting career and having to juggle family life, balancing both took some practice. "The most difficult thing for any working mother is that you're never turned off. It's been a crash course in learning to be organized and managing my time," Sacha said.
She learned to separate her personal and private life, and with Edoardo being a writer/director, he understood the nature of the industry.
The couple worked together on the 2011 romantic comedy film, "Coming & Going," which Edoardo directed, and Sasha starred in, and the experience left Sasha wanting more.
"There was so much freedom that I was allowed as an actor, and I knew I was looked after because it was my husband making me look great. That was kind of amazing. It made me want to do it again and again," she added.
Sasha starred as Special Agent Caitlin Todd on "NCIS" for 49 episodes and also got well known for her role as Dr. Maura Isles on Rizzoli & Isles from 2010 until 2016. After that, she made a complete switch from her usual parts when she became Helene Runyon in Shameless.
From her role as a crime fighter to an older woman having a relationship with a younger man, Sasha embraced the change, as she told Deadline in 2015, "I really wanted to do something that was a complete departure for me."
Fans of the crime-fighting series, "NCIS" have enjoyed their weekly fights for justice since 2003. Since "NCIS: Los Angeles" joined the family, it became equally popular.
Therefore CBS delighted fans when the announced the renewal of the show for another season after it seemed that the show would get canceled.
It promises even more excitement, and we shared everything you need to know about "NCIS: Los Angeles'" upcoming season.
Please fill in your e-mail so we can share with you our top stories!